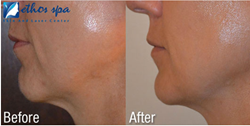 Ultherapy is an alternative to surgical facelift that provides noticeable results without the recuperation time a surgical facelift requires.
Summit, NJ (PRWEB) October 18, 2013
Hardik Soni, M.D., Medical Director at Ethos Spa Skin and Laser Centers in Summit and Englewood, New Jersey, announced the addition of ultherapy to the Center's non-surgical cosmetic procedures.
Ultherapy is a type of non-surgical, non-invasive treatment that uses ultrasound and the body's natural healing process to lift, tighten and smooth loose skin on the brow, neck and under the chin. Ultherapy uses the safe application of ultrasound to stimulate the deep structural support layers of the skin, the same support layers addressed in a surgical facelift, without disturbing the skin's surface.
Ultherapy lifts the saggy skin that everyone experiences as part of the natural aging process. Over time, production of naturally occurring collagen diminishes, and the skin becomes dryer and begins to sag. In the past, patients opted for a surgical facelift to remedy their aging appearance, but not everyone wants to go through the pain and expense of such a dramatic surgical intervention, or the substantial downtime necessary for recuperation.
"Just because your skin is aging and losing its collagen stores, it doesn't mean you have to live with the resulting sagging skin," Soni says. "Ultherapy is an alternative to a surgical facelift that provides noticeable results without the recuperation time the surgical facelift requires.
"For patients who prefer a more conservative approach to cosmetic procedures, this might be the perfect solution."
Ultherapy delivers a healthy, rejuvenating stimulus deep within the skin's layers, for a natural, noticeably younger appearance. After the 60-90 minute treatment, patients are able to go back to work or go about their day with no downtime.
After an initial, short-term boost in the patient's appearance following the first treatment, the natural process of producing new, more elastic collagen builds over time.
Over the two- to three-months following ultherapy treatment, patients experience continued improvement in the skin's lifting and tightening on the neck, under the chin, along the jawline and on the brow. For many patients who are unhappy with their appearance due to skin sagging, ultherapy has proven to be an effective and gentle alternative for those who are not yet ready for a full surgical facelift.
For more information, visit the Ethos Spa website, email 908-273-5400, call the Summit location at (908) 273-5400 or call the Englewood location at (201) 541-660.
About Hardik Soni, M.D. and Ethos Spa, Skin and Laser Center:
Ethos Spa, Skin and Laser Center Medical Director Hardik Soni, M.D. strives to achieve the best possible results for his patients by drawing on his experience and proficiency with multiple laser platforms. Having performed more than 15,000 cosmetic treatments including botulinum injection (Botox and Dysport,) dermal fillers (Juvederm, Restylane, Radiesse,) laser hair removal, chemical peels and laser skin rejuvenation. He is a platinum level injector with Allergan, the makers of Botox and Juvederm, Soni's primary focus is on minimally invasive and non-invasive cosmetic procedures including Aesthera Candela, Cutera, Fraxel, Sciton and Syneron. Soni believes in a more conservative approach to cosmetic procedures, and prioritizes patient education to help patients be pro-active in their cosmetic therapy choices. Clients are able to decide on their own ideal treatment after discussing their options, and weighing the expected outcomes, costs and risks.
Soni finished his undergraduate studies at Johns Hopkins University in Baltimore, Maryland and is board certified in Emergency Medicine. Soni currently works as an emergency room physician at Overlook Medical Center in Summit, New Jersey, as well as serving as medical director of Ethos Spa, Skin and Laser Center. He was recently chosen to the Advisory Medical Panel of Bella Magazine in NYC.
Ethos Spa, Skin and Laser Center is committed to providing the safest, most effective aesthetic procedures, customized to each individual client, utilizing the latest advances in non-invasive cosmetic treatments and technologies. Within a peaceful, luxurious environment, patients can choose from a wide array of cosmetic services and products to enhance the skin's appearance.