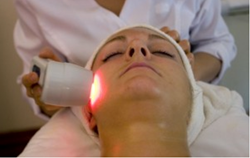 Acne is a common problem among teens and adults, although not everyone responds to the same acne treatments.
Summit, New Jersey (PRWEB) March 31, 2014
Ethos Spa Skin and Laser Centers now offers individualized treatments for patients suffering from acne. Each customized treatment is developed to target specific types and severity of acne in each patient, since no two cases are exactly the same. Featuring Fraxel and pulsed dye laser treatments, chemical peels, and custom topicals Ethos Spa provides the most appropriate and effective treatment for each client's unique skin issues.
Acne is a common problem among teens and adults, although not everyone responds to the same acne treatments. For this reason, Hardik Soni, M.D., Medical Director of Ethos Spa, examines each patient carefully to determine the best treatment for targeting blackheads, whiteheads, nodules, cysts, scarring and other symptoms.
Scarring is one of the most common and devastating results of acne, and its lesions can range in severity. Thanks to FDA-approved treatments offered by Ethos Spa, acne and its associated scars are now among the most treatable skin conditions.
Fraxel Restore® laser treatments are popular and effective for treating acne breakouts and diminishing acne scars, restoring a healthy, fresh and smooth appearance to the skin.
The Fraxel laser emits microscopic laser light spots to treatment areas while simultaneously preserving the healthy surrounding skin. Fraxel is non-invasive, and treatments can erase not only permanent skin blemishes and acne scars, but it is a favorite for targeting age spots (hyperpigmentation,) as well as the fine lines and wrinkles that come with age.
Other types of laser treatments offered at Ethos Spa for acne treatments include:

Blue Light Therapy, which destroys the bacterium that plays a role in the development of acne.
Pulsed Light and Heat Energy Therapy which combines heat energy and pulsed laser light to destroy bacteria and and shrink the sebum-producing sebaceous glands.
Diode Laser Treatments that also work by destroying sebaceous glands in the dermis, the thick middle layer of skin, without harming the outer layer of skin.
There are non-laser options for combatting acne and acne scarring, including dermal filler injections, such as Restylane®, Radiesse® and Juvéderm™ that work by raising the scar depression to even out the skin surface. Multiple treatments may be required as time passes, however, as dermal fillers are not a permanent solution.
Fat transfer dermabrasion involves taking fat from another part of the body and injecting it underneath the surface of the skin to raise depressed scars. Other treatment options include chemical peels and microdermabrasion, which have also been proven effective in helping control acne.
Many people respond well to the high quality prescription acne creams and gels that Soni has custom blended to meet each individual patient's needs. Working closely with a licensed pharmaceutical company to create custom blends using a variety of potent and effective anti-acne ingredients, the results provide a powerful acne treatment solution.
For more information on Fraxel Restore treatments or any of the expert aesthetic services available at the Ethos Spa, Skin and Laser Center, visit the Ethos Spa website, call the Summit location at (908) 273-5400, or call the Englewood location at (201) 541-6600.
About Hardik Soni, M.D. and Ethos Spa, Skin and Laser Center:
Ethos Spa, Skin and Laser Center Medical Director Hardik Soni, M.D. strives to achieve the best possible results for his patients by drawing on his experience and proficiency with multiple laser platforms, earned from having performed more than 15,000 cosmetic treatments including botulinum injection (Botox and Dysport), dermal fillers (Juvederm, Restylane, Radiesse), laser hair removal, chemical peels and laser skin rejuvenation. He is a platinum level injector with Allergan, the makers of Botox and Juvederm; his primary focus is on minimally invasive and non-invasive cosmetic procedures including Aesthera Candela, Cutera, Fraxel, Sciton and Syneron. Soni believes in a more conservative approach to cosmetic procedures, and prioritizes patient education. Clients are able to decide on their own ideal treatment after discussing their options, and weighing the expected outcomes, costs and risks.
He finished his undergraduate studies at Johns Hopkins University in Baltimore, Maryland and is board certified in Emergency Medicine. Soni currently works as an emergency room physician at Overlook Medical Center in Summit, New Jersey, as well as serving as medical director of Ethos Spa, Skin and Laser Center. He was recently chosen to the Advisory Medical Panel of Bella Magazine in NYC.
Ethos Spa, Skin and Laser Center is committed to providing the safest, most effective aesthetic procedures, customized to each individual client, utilizing the latest advances in non-invasive cosmetic treatments and technologies. Within a peaceful, luxurious environment, patients can choose from a wide array of cosmetic services and products to enhance the skin's appearance.
###