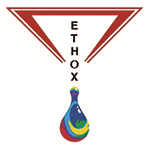 (PRWEB) September 16, 2014
Ethox Chemicals, LLC, a leading American custom chemical company, is partnering with Dr. Gerald Vandezande at the Metal Protection Through Coatings Technology Conference, part of the American Coatings Association's 2014 series.
Dr. Vandezande of 1st Source Research, Inc. will present "Epoxy System with Markedly Enhanced Properties" at 3:15 pm today, promoting the many benefits of EthoFlex® ER in epoxy coatings.
EthoFlex® ER improves a number of solvent borne epoxy coating properties with a single additive. A few of these improvements include better toughness, impact resistance, corrosion resistance, water resistance, gloss, and adhesion. Not only does no other additive do all of these things without hurting pot life, cure time, or increasing VOC's, the performance of EthoFlex® ER exceeds the performance of most other single-property additives in their designed use. Dr. Charles Palmer, Vice President of Technology with Ethox, believes that this is a truly breakthrough product that can improve the performance of all epoxy systems in a cost effective way.
This Coatings Technology Conference is from September 16-17 at the Sheraton Inner Harbor in Baltimore. The conference will cover innovative research on corrosion and metal protection for all types of metallic surfaces. For more information, visit http://www.paint.org/education/ac-series/item/1412-metal-protection-through-coatings-technology-conference.html.
To learn more about Ethox Chemicals and EthoFlex® ER, please visit http://esperse.com/products/ethoflex%C2%AE-er. The video on that webpage shows the dramatic improvements achievable with the addition of EthoFlex® ER to any epoxy system.
About Ethox Chemicals, LLC:
Ethox Chemicals, LLC is a South Carolina-based company providing a broad range of chemical products and technology. It was formed in 1968 with the mission of delivering superior quality and service. Ethox has also built a reputation for customizing its offerings for clients who require specialized products. To find out what Ethox can do for you, visit http://www.ethox.com/.