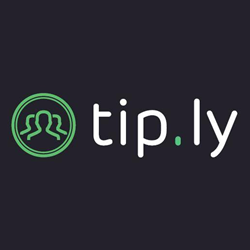 "The consumer demand for e-tipping is rapidly increasing..." said Tim Baldwin, Co-Founder of Tip.ly.
Scottsdale, Arizona (PRWEB) January 28, 2015
Previously available through iTunes only, Tip.ly, the first facial recognition and GPS enabled peer-to-peer mobile payment application that gives users the ability to tip service professionals, is now available for download on the GooglePlay store. The Tip.ly tipping application is now compatible with all Android and iOS smart phones and is free for consumers to download.
"The consumer demand for e-tipping is rapidly increasing, so we are thrilled to expand awareness on tipping made easy with the launch of the app on the GooglePlay store," said Tim Baldwin, Co-Founder and CTO. The new tipping app eliminates the need to exchange private details, like phone numbers, email addresses, bank details and credit cards, and offers users the convenience of tipping anyone, anywhere by simply taking a picture of their smiling face, using Tip.ly's Face Tips technologies. If both users are registered, user can conveniently select them from the Tip.ly Quick Tips menu which is GPS enabled. Tip.ly also offers service professionals the opportunity to get feedback from customers Andy build a personal brand with ratings and reviews.
"E-tipping is the way of the future," said Stephen Campbell, Co-Founder and CEO of Tip.ly. "It was important for us to provide the app free to download for users who want the freedom from cash but still need the convenience of tipping service professionals or any individual." Gone are the days of worrying about having enough cash before flying out on a business trip, tipping the bartender at a hosted bar event or even valeting your car on date night. With Tip.ly, a smartphone is all that is needed to leave a modern-day tip.
Tip.ly is currently competing in the second annual Venture Madness, an innovative startup competition that pits sixty-four of the region's most promising ventures against one other in a bracket-style, head-to-head competition. Early stage growth startups from across Arizona, Colorado and Texas have been chosen to compete for a chance at a $50,000 shared prize. One Venture Madness champion will emerge to take home the top $30,000 prize. First runner-up winner will receive $10,000 and two second-place runners-up will each get $5,000.
About Tip.ly
Founded by Stephen Campbell and Tim Baldwin, the tipping app, Tip.ly secures all financial data with 256-bit encryption, the highest-level encryption available, so all transactions are 100% secure. When e-tipping with Tip.ly, photos are used to ensure the correct person receives the payment. Tip.ly works with all major credit & debit cards, PayPal and all major banks in the United States to ensure quick processing times so users receive tips in 1-2 business days. For more information on Tip.ly, visit https://tip.ly.