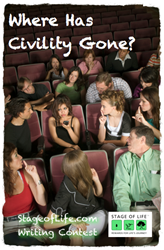 Students rank "Family Upbringing" as the #1 factor for its impact on civility, with "Education Level" coming in as the second most important factor, followed by "Socioeconomic Status."
Minneapolis, MN (PRWEB) January 31, 2014
To understand how teenagers feel about etiquette in today's high-tech world, StageofLife.com, a multi-generational writing community, asked high school and college students ten questions about etiquette, manners, and civility as part of its monthly writing contests and life surveys.
The results revealed the following statistics about teenagers and their views on manners:
--92% of teens say they feel social media, e.g. Facebook and Twitter, is making us a less civil society
--When asked where and from whom do they see the most frequent uncivil behavior (rudeness, bad manners, etc.), 47% of high school and college students replied "Classmates at School" compared to "Family at Home" (6%), "Strangers in Public Places" (27%), or "Friends and Followers on Social Media" (20%).
--70% of teenagers feel society, as a whole, displays more bad manners than good manners.
--43% named "school" as a positive influence on their manners, in particular through their involvement in Extracurricular Activities such as Music, Sports, Student Government, Theater, etc.
--Students ranked "Family Upbringing" as the #1 factor for its impact on civility, with "Education Level" coming in as the second most important factor, followed by "Socioeconomic Status."
--When asked where they learn "bad manners", the top three ranked answers were #1 Media (69.3%), #2 School (65%), and #3 Friends (61.5%).
--Teens rank being rude to cashiers, waiters, or other service people as their biggest pet peeve when seeing bad manners from people in public.
Over 5,500 students visited the essay and survey page during the monthly writing prompt and hundreds fully answered the poll. An additional 125 teen bloggers submitted an essay to StageofLife.com sharing their personal story and thoughts about civility that answered the question,"Where has civility gone?"
The winning 1st place student essay, "Not the Same as Respect", was written by a high school student from South Korea, and the winning 1st place non-student civility essay was submitted by grandmother Melody Stobbe from Omaha, NE in her story, "Dead or Alive."
When Rebecca Thiegs, VP of Education for Stage of Life, asked about her inspiration behind writing, Stobbe responded, "If my words help even one person...find their passion, giving them hope to recapture their dream, then my mission is accomplished. I encourage writing...for the amazing creative release it gives the soul. So keep faith in the world, challenge the inequalities, value your knowledge, remember your own self-worth, cling to your strengths, and show a little vulnerability, not too much, just a little to tease, and always remember to hold on tight to your dreams."
Stage of Life Editors also selected a winner from its Twitter contest which tied into the monthly question about civility. The winning Tweet came from @MissMelBell98 who wrote, "Civility is fleeting fast because people are no longer expected to have it, so in turn, we don't have anything to live up to."
The site collaborated with international etiquette expert, Jay Remer, "The Etiquette Guy", to help craft the conversation around civility and judge the writing contest. Remer is the acting Etiquette Coach for StageofLife.com – a position in which he answers the real-life questions about manners and civility in the etiquette advice sections of the website.
Winners from the monthly writing and Twitter contests received gift cards from Stage of Life educational corporate sponsors Applebee's, IHOP, Papa John's, and SpaWeek.com.
To read all of the essays and download the full teen statistics report on this and other monthly writing contests, visit the StageofLife.com.
# # #
StageofLife.com is a privately funded, start-up company founded in 2009. The website's mission is to change the world, one story at a time. The site welcomed its 1,000,000th visitor last year and provides an international writing community for today's teen, Gen X, Gen Y, and Baby Boomer generations.