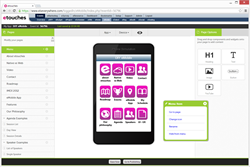 Norwalk, Conn. (PRWEB) March 25, 2014
etouches, a top provider of cloud-based event management enterprise software, today announced the integration of its mobile application eMobile into its pro package. As a result of increased demand of the eMobile module, etouches will now offer the solution as part of an existing package at no additional cost.
"Including eMobile in our pro package shows our dedication to evolve as a company to meet our clients' needs," said Nicola Rossetti, vice president of global marketing for etouches. "With the majority of our clients using mobile apps for their events, it was clear to us that eMobile had to be included as a standard pro module."
By integrating into the pro package, eMobile will be a part of the event power suite that includes the event essentials of the etouches quad package (eReg, eMarketing, eSurvey and eHome) along with the pro modules eProject, eScheduler, eBudget, eWiki, eSocial, eSeating, eBooth and eRFP. The simple, do-it-yourself mobile application will appeal to those who are looking to put the power of creating a mobile app in their hands, without having to pay more for an additional application. eMobile makes it easy to connect every aspect of the event lifecycle with an immediate link to other modules in the etouches product line.
"Our clients have recognized the value that a mobile application will bring to events and event attendees and therefore, we are eager to bring this new option to our current and prospective clients as part of our existing package," said Kathleen Roberge, vice president of global sales for etouches. "Additionally, we will continue to evolve our eMobile platform to offer our customers a larger choice of options as their mobile needs progress."
To learn more, please visit: http://www.etouches.com/GOeMobile.
About etouches:
etouches is a leader in in-cloud events management enterprise software. Founded in 2008, the company has more than 800 customers in 35 countries. Headquartered in Norwalk, Conn., the company has two wholly-owned subsidiaries with offices in Reading, UK and Sydney, Australia. Learn more at http://www.etouches.com.
Media Contact:
Nicola Rossetti
Vice President, Global Marketing
Direct: +1 203.403.9008
Email: nrossetti(at)etouches(dot)com