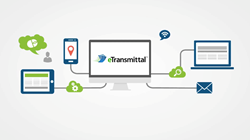 I imagine a day when there are no longer folder structures.
Denver, CO (PRWEB) April 08, 2015
Denver-based software developer bWERX is pleased to announce that eTransmittal, its flagship data management system, is extending its global reach into South Africa by partnering with Azcom, a leading provider of Managed IT Services and Software Development for corporate clients.
New functionalities have also been added to enhance eTransmittal's already groundbreaking technology.
bWERX CEO Justin Culver envisions increased influence of eTransmittal on the global document share landscape saying "I imagine a day when there are no longer folder structures" to navigate. His team is striving to pave a smooth path for eTransmittal's growth, ensuring that it integrates seamlessly into Microsoft SharePoint and other existing document management systems, bug-free.
Culver first took on the challenge of document management while working with a rapidly-growing engineering company and being told by its management team that "our folder structures are a disaster". The complexity of finding a secure, efficient way to search a multitude of documents had them stumped – and looking for a seamless company-wide data-sharing structure.
After meeting over the better part of a year, Culver and the team agreed on how to design the functions of labelling, tagging, searching and finding data. But after the carefully-crafted system crashed upon implementation, Culver realized, "you can't solve the problem of multi-layered data management by departments." His solution? Invert the process – designing software that assigned labels and tags to projects and documents instead of assigning projects and documents to "buckets" with labels and tags.
The challenge of designing and implementing an efficient, unbreachable document management and security software system has long been one of the "better mousetrap" challenges of the IT world – especially for companies whose reputations rely on effectively organizing and accessing multiple layers of sensitive data – all of which must be safely secured.
With eTransmittal's continued growth, Culver is hoping that he may have the "next step" solution in hand.
For more information, please go to the eTransmittal website.