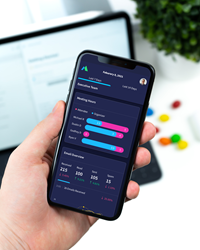 SAN DIEGO (PRWEB) March 25, 2021
The San-Diego based software company that launched the award-winning parenting app, Ourpact.com, has announced the launch of a new solution, Motiv, to address the burgeoning work-from-home market.
In response to the dramatic restructuring of work practices on the heels of COVID-19, many leaders are seeking ways to evaluate activity in their newly decentralized organizations. Through a mobile-first dashboard, Motiv offers an unparalleled solution that provides CEOs and business leads assurance that their key team members are collaborating on projects and engaged with their daily responsibilities. Notably, Motiv ensures privacy as it requires no plug-ins, nor is anything installed on company computers—a significant differentiator in the space. Thanks to its light-weight nature, the Motiv app can be easily used by both small and medium-sized businesses, which have been underserved by the existing employee productivity software solutions market.
An established expert in scalable remote monitoring software, Eturi Corp. recognized the opportunity to contribute to the modernization of business practices when the pandemic hit. Their popular application OurPact, which over 1 million families use, allows parents to supervise and manage their children's screen time activities remotely. The Eturi team has been able to use its subject matter expertise to catapult its technology into a needed market segment: business software solutions.
"I understand how challenging it is to lead effectively from a decentralized operation," says Amir Moussavian, the CEO of Eturi Corp. "I value the corner office vantage point – being able to tune into the hum and buzz of my team collaborating. Who is meeting with who? Is my product manager getting enough minutes with appropriate stakeholders in advance of an upcoming release? Now, I can access those key insights from my device and subsequently use them to make decisions and lead effectively in real-time."
At launch, Motiv's reporting focuses on providing conference call activity and email summaries with integrations into Google Workspace and Microsoft 365. Additional integrations are slated for future release. Motiv is available free of charge for a limited time through the iOS App Store and Google Play Store. To sign up, navigate to motivapp.com or search for Motiv in your mobile app store.
________
About Eturi Corp:
Eturi develops essential cross-platform solutions for mobile devices. Eturi's flagship product, OurPact, is the world's leading parental control application, used by over 1 million parents. To learn more about Eturi, navigate to eturi.com.