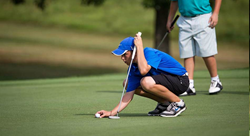 The staff at RiverRidge Golf Complex is excited to extend our support to junior golf through the collaboration with Nike Golf and US Sports Camps.
San Rafael, CA (PRWEB) March 10, 2016
Nike Golf Camps will be offering camps at RidgeRiver Golf Complex in Eugene, Oregon this summer. RiverRidge Golf Complex is co-owned by Ric and Debbie Jeffries and will serve as the host site for two weeks of camp.
"RiverRidge Golf Complex is such a great venue for camps," says Jason West, senior vice president for Nike Golf Camps. "Ric and the entire staff have made junior golf a priority, and that commitment is reflected in their decision to bring Nike Golf Camps to the property this summer."
The property is not only the city's top public range facility, but also has a variety of options for course play. This summer, campers will enjoy the luxury of not only a training facility and championship course, but also access to two other unique nine-hole tracks designed to focus on different facets of the game. SuttonRidge is a tight and challenging executive course which forces players to rely on the accuracy of their long irons and save strokes where they count. ShortRidge, a short course, is where the juniors will take no more than two wedges and putter out of their bag. Just to be clear, these are not pitch and putt courses. They have large greens and no shortage of well-maintained water hazards and traps. Both of these tracks are just across the street, have their own snack bar in summer, and provide junior golfers with an area to hunker down on specific parts of their game with many reps.
Ric Jeffries, long time PGA instructor and course co-owner with his wife Debbie, quite literally built RiverRidge from the ground up. After buying the land the course sits on in the mid 1980's, Jeffries and his team have spent decades building out the complex into what it is today. Ric has an unmatched passion for the game and it is reflected in his instruction.
"The staff at RiverRidge Golf Complex is excited to extend our support to junior golf through the collaboration with Nike Golf and US Sports. Nike Camps and RiverRidge will provide a wonderful experience for juniors to learn the enjoyment of the great game of golf. Through structured swing work and extensive time on our golf courses, youth players can expand their knowledge of golf and the requisite behavior required to enjoy the game. We are ready… Are you? Come and join us." – Ric Jeffries
Camps will run for the weeks of June 20th and July 11th and will offer full and half day options. These camps are structured for children ages 7-16 and accommodate all skill levels.
Nike Golf Schools & Junior Camps (NGJC) is a division of US Sports Camps, Inc., America's largest sports camp network. NGJC offers junior overnight and day camps, and advanced player schools at over 90 locations nationwide. For more information, please visit http://www.ussportscamps.com/golf or call 1-800-NIKE-CAMP.
About US Sports Camps
US Sports Camps (USSC), headquartered in San Rafael, California, is America's largest sports camp network and the licensed operator of Nike Sports Camps. Over 75,000 kids attended a US Sports Camp program in 2015. The company has offered summer camps since 1975 with the same mission that defines it today: to shape a lifelong enjoyment of athletics through high quality sports education and skill enhancement.