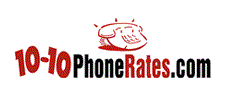 A one hour phone call to Spain, Poland, or Sweden would cost less than one Euro.
(PRWEB) September 30, 2013
As more and more people turn to Voice over Internet Protocol or "VoIP" service to make cheap overseas calls using the Internet, VoIP providers are dropping prices lower and lower to gain new customers. Just ten years ago a traditional phone company could charge more than 5 dollars a minute for calls to Europe. Now cloud technology allows callers to use the Internet to transmit voice-data digitally for just pennies a minute. After comparing prices, customer reviews, and service-plan features, 1010phonerates.com announces the top three VoIP providers for cheap calls to Europe.
Most US cell phone companies that boast about worldwide coverage actually charge more for broadband usage at certain times of the day, which makes calling overseas very expensive because of the time change. In contrast, calls made using Internet Protocol have no "peak hours" because the Internet is truly the "worldwide web". Many VoIP providers include at least some free international calling with their plans, and most of them have low per-minute rates as well. After an intensive comparison of the top US providers, here is a breakdown of the top VoIP providers for cheap calls to Europe.
VoIPo
VoIPo is currently offering a 2 year plan for just $149.00. That's $6.21/month and includes 60 minutes of calls to Europe included with their basic service. After the 60 minutes are up, the rate is just two cents a minute any time of day or night. That means a one hour call to Spain, Poland, and Sweden would cost less than one Euro.
VoIPo offers the same two-year plan and calling rates for business service as well as residential. For more frequent calls to Europe, plans can be upgraded to the 1200-minute calling plan for an additional $7.95/month. The upgrade allows customers to use 1200 minutes of calls anywhere in Europe for a total of $14.16/month. So if Mom needs to "check in" from Romania for 40 minutes a day, this plan is perfect.
AxVoice
AxVoice has extremely competitive pricing on their international rates and residential service plans that start at $4.95/month, with no service contract. (For an extra dollar, customers get unlimited calls anywhere in North America including the US and Canada). AxVoice includes a router with their service plan, and even ships it to the customer free of charge. Their international rates to Europe that stand out from the pack are: Calls to Spain for 6 cents/minute, calls to Italy for 3 cents/minute, and calls to Ireland for 2 cents/minute.
Phone.com
Phone.com residential service plans start at $14.99/month and include plenty of features like call forwarding to a mobile phone, local/global/800 numbers, call conferencing, and customized music and message service. A few of the stand-out rates at phone.com are calls to Austria for just 4 cents/minute, Calls to Hungary for 4 cents/minute, and calls to Switzerland for... that's right, just 4 cents a minute.
Whether a family member is overseas for the semester, or a long lost friend turned up in Zurich, there's no need to fret over a huge monthly phone bill. Residential VoIP providers are offering calling plans to Europe for pennies on the dollar right now. So regardless of where someone is calling or calling from, there's a perfect VoIP provider with great rates for them to choose from.