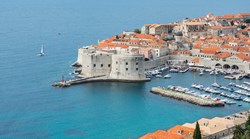 The authenticity and flexibility local apartments offer is not something even 5 star hotels can rival with in many instances.
(PRWEB UK) 23 January 2014
With the increasing popularity of private holiday rentals, more and more people are opting to stay in centrally located self-catering apartments when exploring the many wonderful cities in Europe. The authenticity and flexibility local apartments offer is not something even 5-star hotels can rival with in many instances. One of the market-leading holiday rentals websites, AlphaHolidayLettings.com, reveals their top European city destinations for Spring 2014, featuring a number of unique luxury holiday pads in some of the best known cities in the continent.
BARCELONA – Interior designed and retaining many original features including an antique fireplace and stained glass bay window, Aragon Platinum is an exquisite two bedroom apartment located in a Liberty-style building very close to Passeig de Gràcia. The upmarket boulevard is home to the two iconic Casas (Batlló & Milà) designed by Antoni Gaudí, and is lined with the most exclusive shops in Barcelona. A short stroll away is Plaça de Catalunya and the world famous La Rambla. From €390 per night, Property ID: 111523 on AlphaHolidayLettings.com.
PARIS – Situated in the prestigious 6th arrondissement, Saint-Germain is one of the most beautiful and historic neighbourhoods in Paris. This chic and quirky French loft (Property ID: 113908) from AlphaHolidayLettings.com features a futuristic double bed, an ultra-modern bathroom with bathtub as well as dishwasher, iPod dock, and Wi-Fi. With its plush red carpet, exposed ceiling beams and designer furniture, this luxurious apartment is a romantic hideout hard to resist. From €285 per night, Property ID: 113908 on AlphaHolidayLettings.com.
ROME – One of the most visited destinations in the world, Rome is a treasure trove full of historic landmarks everywhere you go. Directly facing the Colosseum, the unique Colosseum Imperiali View apartment has probably the best view in the Eternal City. Located on the 3rd floor of a magnificent 19th century building, the spacious apartment boasts 4 bedrooms with ten large windows providing stunning views out towards the Colosseum and Fori Imperiali. From €340 per night, Property ID: 130500 on AlphaHolidayLettings.com.
DUBROVNIK – The Jewel of the Adriatic has been a UNESCO World Heritage site since 1979, and well deserved so. With stunning views and rich history, the mediaeval walled city is unlike what other European destinations can offer. Only 10 minutes' walk from Dubrovnik's Old Town is the Raic apartment. Perfect for couples, the apartment not only offers great value, the spectacular panoramic views of the Old Town and surrounding islands it offers are definitely postcard worthy. From €357 per week, Property ID: 131204 on AlphaHolidayLettings.com.
About Alpha Holiday Lettings
Alpha Holiday Lettings is a leading travel rentals website, offering self-catering holiday accommodation in England, France, Spain, Portugal, Italy, Cyprus, Turkey, North America and destinations around the world. All properties listed on Alpha Holiday Lettings are privately owned and are booked directly with the owner of the property. For more information, visit http://www.AlphaHolidayLettings.com.