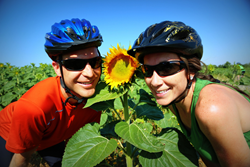 We have the largest selection of confirmed cycling tours in our company's 26+ year history.
Arlington, MA (PRWEB) August 27, 2014
Ciclismo Classico, the leader in Italian cycling tours, is excited to announce an assortment of remaining fall 2014 offerings and more than 40 confirmed departures for 2015. These bicycle tours range from novice trips through Puglia to intermediate routes across Sardinia and advanced rides in the French Alps. For more information on confirmed cycling tours for 2014/2015, visit http://www.ciclismoclassico.com/find-your-trip/confirmed-tours/.
"We have the largest selection of confirmed cycling tours in our company's 26+ year history," said company founder Lauren Hefferon. "Whether you are traveling as a multigenerational family or by yourself, we have something for everyone."
Pedaling through Western Liguria takes cyclists west of Cinque Terre and Genova to explore the gorgeous Riviera delle Palme (Palms Riviera) and Riviera dei Fiori (Flowers Riviera), major destinations for Italian and European tourists since the early 1950s. This unique region is a beautiful maze of fortified medieval villages and small fishing towns with strong connections to the north and Piedmont and deep traditions of sailing, fishing, and trading through the Mediterranean Sea.
The Assaggio Toscana bike tour of Tuscany zigzags through the olive groves and stone villas that line Sette Ponti, The Roman Road of Seven Bridges. Guests wind through the sun-drenched Pratomagno range and stop for breaks in picturesque towns peppered with fig trees, vegetable gardens and vineyards. Medieval churches, quaint hamlets, and charming landscapes abound. A highlight of this ride includes visiting an olive oil press to sample Tuscany's exceptional blends.
The coast-to-coast Bike Across Italy tour passes through four of Italy's most beautiful regions: Le Marche, Umbria, Lazio and Tuscany, each known for its charming hilltop towns, lush landscapes and unique cuisines. Guests cycle along rivers, stop at the spectacular Grotte di Frasassi, Italy's largest known caves, and through Etruscan settlements.
Ciclismo Classico's long-running bike tour of Piedmont unveils a region that has achieved the status of gastronomic and enological perfection. Considered to be Italy's greatest wine region, the vineyard centers of Gavi, Acqui Terme, Alba, and lower Monferrato (UNESCO World Heritage Site). With great wine comes a blend of Northern Italian and French cuisine with truffles and mushrooms as seasonal key players.
Other tours are available in Croatia, France, Portugal, Corsica, and more. For more information on 2014/2015 cycling tours, call Ciclismo Classico at 1.800.866.7314.
About Ciclismo Classico:
Join a Ciclismo Classico tour and you'll soon find yourself "Pedaling your Passion," a uniquely Italian approach to bicycle travel that embraces La Dolce Vita at every turn and invites you to find your very special passion on every tour. Whether it's soaking in the scenery, learning to make pasta, taking hundreds of photos or learning about Renaissance architecture, you'll re-connect with your own passion with our special native guides who connect you to the culture and landscape like no one else can. Ciclismo Classico transforms a European cycling trip into an eye-opening, life-altering adventure you'll never forget. Come ignite Your Passion and pedal with us!