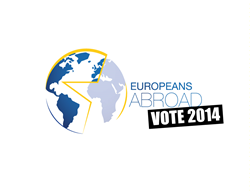 When citizens take matters in their own hands, the EU listens.
West Chester, PA (PRWEB) March 25, 2014
European Citizens Abroad is very proud to announce that the campaign "Europeans Abroad Vote 2014" is now under the high patronage of the European Parliament.
As noted on the European Parliament's website "Patronage is a way for Parliament to associate itself with an event by providing its moral support. A limited number of events is granted such patronage every year."
Olivier Nataf, Founder & Executive Director of this new citizens' organization said: "we have been very impressed with the support and the availability of many officials at the European Parliament and at the European Parliament's Liaison Office with the U.S. Congress and the EU Delegation in Washington, DC. When citizens take matters in their own hands, the EU listens."
With Europeans Abroad Vote 2014 (#EAV2014), the team has already reached thousands of EU expats around the world to bring the most appropriate information about why it is important to vote in the 2014 European elections, how to do it for citizens who do not live in their country of origin, and to give them a unique opportunity to get involved wherever they live.
With the election now less than 60 days away (NDLR May 22-25 2014), now is the time for EU citizens to learn about the candidates and the political groups, and make sure that they participate in shaping the future of our union.