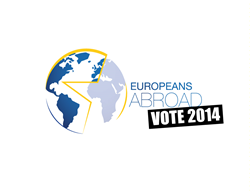 Between the 22nd and the 25th of May, 400 million European citizens will elect their Members of European Parliament for the next 5 years in the second world's largest election.
West Chester, PA (PRWEB) May 23, 2014
The eighth European elections are under way, with 28 member states voting from 22 until 25 May. Yesterday the polls opened in the UK and the Netherlands, today in Ireland and the Czech Republic, on Saturday in Latvia, Malta, Slovakia and the Czech Republic, while all remaining EU Member States will vote on Sunday 25 May.
As a non-partisan citizens' organization, European Citizens Abroad urges all Europeans to participate in this election and vote to decide the future they want for our European Union. For the first time, and as an outcome of the Lisbon treaty, elected MEPs will also choose the new President of the European Commission.
Because of this, but also of the unprecedented rise of eurosceptic parties in large EU countries like France, the UK or the Netherlands, and because of the importance that the European Parliament has in the decisions that are made in Europe, this election will be historical.
The 2014 European election can be followed on the official Tumblr website of the European Parliament http://electionsnight2014.eu.