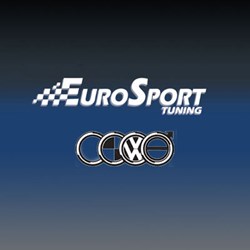 "I wanted to make it easy for customers throughout North America to get the hard-to-find performance parts they want."
Ontario, Canada (PRWEB) December 20, 2013
Canadian performance auto parts retailer EuroSport Tuning has announced the launch of its new ecommerce website. The new site is built on the Magento platform, allowing EuroSport to nearly double the number of products offered to customers. The new site also includes bundled pricing options as well as increased usability for U.S. customers. Visitors to the website will find it easier than ever to shop for top of the line European performance auto parts.
EuroSport Tuning specializes in performance auto parts for European-model cars including AUDI, BMW, Volkswagen and Volvo. The company was founded in 2000 by performance car enthusiast Frank Derks. After spending 10 years working on performance automobiles, Derks decided to start his own business providing the highest quality performance auto parts available, including custom parts of his own design.
What began as a part-time venture rapidly grew into a full-time operation. In 2004, Derks opened EuroSport's retail location in Toronto and shortly thereafter began setting up the company's ecommerce operations. "I wanted to make it easy for customers throughout North America to get the hard-to-find performance parts they want. Opening an online business was the way to go," said Derks.
In addition to carrying top of the line brands such as Milltek Sport, V-Maxx, RICA Engineering, AWE Tuning and Mototec, EuroSport offers custom-built products such as high –performance suspension and performance exhaust systems, air intakes, alloy wheels and more. The quality and specialized nature of their product line has gained EuroSport a following from performance auto enthusiasts in Canada and the United States.
The increased demand from U.S. customers was one of the key factors in design in the new website. By using the scalability of the Magento platform, EuroSport was able to almost double its product line from 3,800 items to more than 7,200, with plenty of room to grow. They are constantly adding suppliers such as Powerslot, Borla, ST Suspension, ECS Tuning , H&R Springs Stoptech, Centric and AEM. They have also begun carrying OEM replacement parts for Volvo and plan to add Audi, BMW and Volkswagen to the OEM line. "As we added more choices for more makes of cars, we needed an e-commerce platform that was robust enough to handle our growing inventory and that would be easy and secure for our customers to use," Derks says.
To make it easier for customers on both sides of the border to shop on the website, prices are now convertible between U.S. and Canadian currency, with no conversion charges. Customers are also able to shop by year, make and model with easy-to-use dropdown menus. One of the most exciting new features for Derks is the custom bundling that the website will offer. "We'll soon be able to offer bundled pricing on parts kits our customers can design for themselves," he says. "This way they get exactly what they want at a better price instead of having to buy a la carte."
For additional information about EuroSport Tuning, visit the new website at http://www.eurosporttuning.com or call Frank Derks at 905-825-9334.