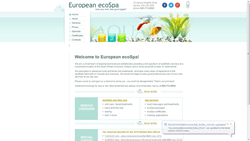 Our extensive list of offerings also includes a range of high quality waxing services.
(PRWEB) June 22, 2015
A small yet seasoned team of licensed estheticians set out to provide comprehensive spa and skin care treatments at reasonable prices to bring European ecoSpa into existence. The Ontario based skin and spa treatment provider is successfully catering to those with the desire to have smooth, glowing and healthy skin. As the name suggests, European ecoSpa adopts a sustainable approach towards skin care treatments and hence, uses only eco-certified skin care products and eco-friendly materials in its procedures.
Replying to a query related to waxing services on offer, an executive at European ecoSpa recently stated, "Our extensive list of offerings also includes a range of high quality waxing services. All our treatments are within the reach of the common folks and waxing treatments are no exceptions either. At our skin clinic, one can seek waxing services including but not limited to facial waxing, upper body waxing and lower body waxing. Seasoned, competent and courteous estheticians carry all out all our waxing procedures with remarkable expertise and professionalism."
The estheticians at European ecoSpa have the experience and expertise to make the generally painful waxing procedures comfortable and soothing for the visitors. They have the ability to accomplish waxing procedures in a short time but not at the expense of quality. European ecoSpa uses only superior soothing lotions to moisturize the skin post waxing procedure for ensuring better results at all times. Moreover, the individual can see a significant reduction in the hair growth just after a couple of spa sessions. Therefore, a smoother, radiant and hair free skin is not a distinct possibility provided the customer is consistent with his/her waxing procedures.
With the intent to offer some more insight into the types of waxing services on offer, the executive further stated, "Our experts are well versed in performing facial waxing on brows, upper lip, nose, neck, temples, cheeks, chin, hairline, and full face allowing for a tender and hair free skin. Additionally, our estheticians have proven credentials in performing upper body waxing procedure on hands, arms, underarms, chest, stomach, shoulders, lower back, and back. Moreover, we also perform the lower body waxing procedure to get rid of unwanted hair in body parts like legs, between the cheeks, buttocks, high bikini and bikini areas. Our premium offering, the Brazilian waxing is also gaining popularity among women who desire only the best".
As recognition to the customer's trust, European ecoSpa is offering gift certificates for buyer to treat his family members or friends with a gift of pampering and professional skin care. The certificates may be used at European ecoSpa within six months of the purchase date and can be applied toward any services listed in the price list including Newmarket waxing services. One can purchase these certificates online with a valid credit card by filling an online form incorporated in the website of the Aurora day spa retreat and complete his purchase with PayPal service.
About European ecoSpa:
Established in June 2008, European ecoSpa is a leading skin care and spa treatment provider. Aurora, Ontario based skin and spa treatment provider has proficiency in offering a slew of beauty and skin care solutions including facial treatments, Hand and foot care, Waxing and Lash & brow in addition to a variety of spa treatments at competitive prices to its domestic as well as international clients. All the above stated reasons make European ecoSpa the ideal destination for those who wish to find the spas in aurora.
Contact Information:
European ecoSpa
33 Aurora Heights Drive
Aurora, ON L4G 2W6
Phone 905.713.0959
Website: http://www.euroecospa.ca
# # #