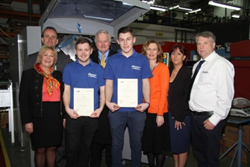 We are immensely proud of them and this presentation was arranged to show them how much we think of them and their achievements
(PRWEB UK) 23 April 2015
Apprentices at spring manufacturer European Springs & Pressings Ltd were recently presented with certificates, celebrating the completion of their apprenticeship in Performing Engineering Operations, by local MP Colonel Bob Stewart. The ceremony took place at the European Springs & Pressings Ltd facility in Beckenham, London, and was attended by representatives from the Soloman manufacturing group and Bromley Education Business Partnership.
The successful apprentices are Peter McClymont (20) from South Norwood, formerly educated at the Harris Academy, and Jack Hever (17) from Orpington, formerly educated at the Priory School. Both undertook their apprenticeships on-site with European Springs, benefiting from both the knowledge and ability of their trainer and assessor, Paul Pestell from Soloman, and from the expertise of the European Springs team. The collaboration between European Springs and Soloman meant that the apprentices were able to work safely under supervision to make the range of metal parts required by the framework, both by hand and using a range of machines at the European Springs plant. This is the first time that all parts of this craft-based apprenticeship framework have been delivered on-site with an employer under Soloman's scheme.
These apprenticeship placements came about thanks to a liaison between Bromley Education Business Partnership and Soloman (The Society of London Manufacturers), promoting the placement of apprentices within industrial companies in the London area.
The ceremony itself was arranged as a surprise for McClymont and Hever. A spokesperson for European Springs & Pressings Ltd said: "We are immensely proud of them and this presentation was arranged to show them how much we think of them and their achievements. Until Colonel Bob Stewart arrived they had no clue it was happening."
Both apprentices are delighted with their achievements, and Hever is looking to progress on to a higher apprenticeship in September.
European Springs & Pressings Ltd is a subsidiary of Lesjöfors, Europe's leading spring supplier, and has built up an extensive list of contacts in its 65 year history. As a prominent member of The Institute of Spring Technology, European Springs & Pressings Ltd is at the forefront of spring development and manufacturing, with two dynamic manufacturing facilities in London and Cornwall respectively, as well a stocking facility in Yorkshire, allowing them to supply a wide range of both bespoke and stock springs and pressings.
For more information on European Springs & Pressings Ltd please visit their website at http://www.europeansprings.com.