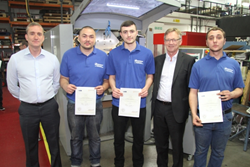 We are very proud to be producing spring makers of the future.
(PRWEB UK) 29 October 2015
Three apprentices from the spring manufacturer European Springs and Pressings Ltd have just been awarded with a nationally recognised qualification, the Intermediate Level Apprenticeship in Improving Operational Performance, as the company acknowledges and rewards their hard work and achievements. This was formally celebrated during a certificate giving ceremony, with the CEO of the Lesjöfors Group, Mr Kjell-Arne Lindbäck, there to present the awards.
The successful apprentices are Daniel Gillam (22), Vincenzo Ciacciarelli (23) and Joe Cussell (19), and in their time at European Springs each of them was able to experience the broad range of different processes which are carried out within the business, with European Springs stating that they were able to accomplish this by 'systematically rotating through all areas of the business in order to gain the relevant skills required'.
Having had the opportunity to gain such a wide breadth of different skills, theses successful apprentices are now in the perfect position to choose an area in which to specialise, and European Springs will be ensuring that they are able to continue working in the area of the business which aligns best with their skills and interests. Their ongoing involvement with the company certainly demonstrates just how useful apprenticeships can be as a route in to the engineering industry.
Managing Director Stuart McSheehy had this to say about the value which European Springs places on working with apprentices: 'We are very proud to be producing spring makers of the future who are able to satisfy the ever-increasing requirements of our customers. In doing this we are strengthening our already wide skill set and setting foundations for future growth and development within the spring industry.'
European Springs are expecting more growth in the future, and by focussing on educating upcoming professionals within their industry, such as these three apprentices, they aim to ensure that they are always able to meet the demands of potential future customers.
European Springs & Pressings Ltd is a subsidiary of Lesjöfors, Europe's leading spring supplier, and has built up an extensive list of contacts in their 65 year history. As a prominent member of The Institute of Spring Technology, European Springs & Pressings Ltd is at the forefront of spring development and manufacturing with two dynamic manufacturing facilities in London and Cornwall respectively, as well a stocking facility in Yorkshire, allowing them to supply a wide range of both bespoke and stock springs and pressings.
For more information on European Springs & Pressings Ltd please visit their website at http://www.europeansprings.com.