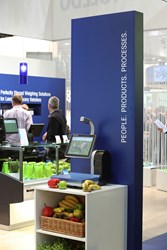 This performance boost noticeably speeds up service at the fresh counter and opens up an entire range of new opportunities directly on the scale.
Columbus, OH (PRWEB) January 27, 2014
At EuroShop 2014, METTLER TOLEDO will present retail concepts to put the enjoyment back into shopping and improve the in-store experience at fresh service counters and in self-service weighing areas. Features include live demonstrations of self-service and counter scales from the UC Evo Line, featuring a new dual-core hardware platform for greater speed and computing power, and third-party application displays for flexible and customized retail processes from select METTLER TOLEDO partners. EuroShop 2014 will take place February 16-20 in Düsseldorf, Germany.
METTLER TOLEDO's UC Evo Line is a family of touchscreen scales with updated hardware to improve the scale's graphic capabilities, including impressive HD functionality for video. Grocery retailers can benefit from up to 150 percent more processing power, and retail marketing strategists have the utmost freedom to bring their digital signage concepts to life on the customer screens of both self-service and counter scales, in optimum quality and without compromise.
"This performance boost noticeably speeds up service at the fresh counter and opens up an entire range of new opportunities directly on the scale," says Martina Becker, product manager at METTLER TOLEDO. "Additional applications for content management, product ordering or inventory management can run flawlessly and in parallel."
METTLER TOLEDO will demonstrate flexible self-service process models that enable retailers to keep their operations running smoothly in the fresh produce departments, as well as concepts for the fresh service counter which further expand on the role of modern PC-based counter scales as the portal to ERP and product management. One demonstration in particular will be the SmartSearch process model, a self-service scale with an extra-large touchscreen that enables shoppers to choose the right item by means of an interactive, visual search on the touchscreen of the self-service scale.
In the partner zone, selected exhibitors will be joining METTLER TOLEDO on its stand to present further software solutions related to fresh food:
•The company Applied Data Corporation (ADC) will present its suite of Fresh Item Management software called InterStore. InterStore manages the stages of a fresh item throughout its lifecycle from ingredients ordering to POS transaction, enabling enhanced analytics.
•The omni-channel consultants from CAS AG will use a solution for permanent inventory to show how individual web applications can be connected directly to the scale software via the browser. This seamless integration of the scale software into the ERP processes enables retailers to improve their fresh product management and process monitoring.
•The company Grassfish GmbH will be displaying digital signage installations for in-store communications, interactive systems in support of product presentations and advice – both on large screens and on tablets – and electronic price labels.
•MUUME AG will be revealing the first mobile payment system to communicate with a METTLER TOLEDO scale. As a full service mobile payment provider, MUUME makes it possible to achieve a more efficient sales process and better targeted POS marketing by combining its technology with self-service and self-checkout concepts, among others.
•Toperczer GmbH, METTLER TOLEDO's sales partner in Austria, will be collaborating with ETRON-Software to present a total solution for weighing and checkout with an ERP system installed on the scale itself.
Visit the METTLER TOLEDO booth at EuroShop 2014 from February 16-20 in Düsseldorf, Germany. METTLER TOLEDO will be located in Hall 6, Stand E75. For more information, visit http://www.mt.com/retail-euroshop2014.
METTLER TOLEDO
METTLER TOLEDO is a leading international manufacturer of precision measuring instruments. The company is the world's largest manufacturer and supplier of weighing systems for laboratories, industry and food retail.
METTLER TOLEDO is one of the three leading suppliers of various complementary measuring technologies and a leading supplier of automated pharmaceutical research and ingredient development systems. Moreover, the company is the world's biggest manufacturer and supplier of metal recognition systems for the production and packaging industry. Further information on METTLER TOLEDO can be found at http://www.mt.com.