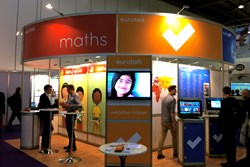 Bett is an increasingly key event for us, and we look forward to another successful show.
London, UK (PRWEB UK) 22 January 2014
EuroTalk's language learning software, available in an unrivalled 133 world languages, is used in schools, colleges and educational institutions worldwide. The interactive programs use carefully chosen activities to keep students engaged and motivated to learn. This year, EuroTalk are offering a VLE-ready package (compatible with Moodle and many other commercially available Virtual Learning Environments) at a special per-language price exclusive to Bett Show visitors.
As well as languages, EuroTalk also offers apps for primary education, currently focusing on maths for early years. The apps were recently the subject of an evaluation in Malawi by Dr Nicola Pitchford from The University of Nottingham, which showed that children tripled their maths knowledge in just eight weeks using EuroTalk's apps. At Bett, visitors will have an opportunity to try the apps for themselves; they can be purchased through the iTunes App Store, with special educational pricing on offer for schools via the Apple Volume Purchasing Programme.
With 35,000 educators and learning professionals expected to attend from all over the world, Bett is an opportunity for EuroTalk to meet with new and existing customers and partners, and to learn more about the needs of the education community.
"We've been participating in the Bett show for many years," says Steve Eatock, EuroTalk's Worldwide Education Manager. "It's turned into a truly global event and apart from meeting new prospects, it's guaranteed to be the one time of year when our biggest overseas customers visit us, and we have the opportunity to catch up. As we continue to sell to schools and businesses across the world, this is an increasingly key event for us, and we look forward to another successful show."
The Bett show will be taking place at ExCeL London from 22nd to 25th January. EuroTalk can be found at stand F460.
About EuroTalk
EuroTalk is an educational publisher based in South West London. Established in 1991, the company creates language learning apps and interactive computer software in over 130 languages, which have been used by over 20 million people worldwide, and primary maths apps for 3-5 and 4-6 year olds.