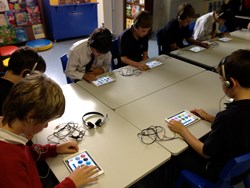 The JLC has definitely opened the eyes of both our boys to the opportunities that learning languages brings.
London (PRWEB UK) 7 October 2013
The Junior Language Challenge, which is now in its tenth year, challenges children under 11 to learn up to three new languages in under nine months. This year's finalists are now studying Chichewa, the language of Malawi, ready to compete for the top prize of a trip to Africa, at the grand final on 18th October.
There will be some familiar faces among the spectators watching anxiously at this year's final. The JLC has become a tradition for many families around the UK, like the Fawcett family from Rowland's Castle, Hampshire. Ben, now aged 11, reached the final in 2011 and came fifth, and now his younger brother Josh, 9, is following in his footsteps - and promising some healthy competition.
"Before I did JLC I didn't think I was very good at languages, but now I know I am," says Josh. "It makes it easier that Ben's done it before, it makes me want to do better than him!"
Judith Flint from Nottingham has been a supporter of the Junior Language Challenge since 2010. "Having twice seen his older brother, James, reach the JLC final, Edward was keen to have a go," she says. "Playing the games and trying to increase his score showed him that learning languages can be fun. The JLC has definitely opened the eyes of both our boys to the opportunities that learning languages brings."
One of the primary goals of the competition is to inspire a love of languages at a young age, and this is exactly what it has done for the Walker family from Stockton-on-Tees, who have produced four JLC finalists over the last six years: sisters Hayley and Eleanor, their cousin Megan, and 2013 finalist, their younger brother Isaac.
Hayley, now 16, went on to achieve A grades in her French and Latin GCSEs, and is currently shortlisted for a community project in Nepal, while Eleanor, 14, took part in an exchange trip to Germany and has made a lifelong friend there. Isaac, 9, is also a natural when it comes to languages, and is particularly keen to speak Spanish because he wants to play football for Barcelona one day.
Josh, Edward and Isaac will be competing against each other and 30 other keen young linguists at the final, which is taking place as part of Language Show Live at Olympia London later this month. Having already learnt Spanish and Greek to reach this stage, all the competitors will be eager to prove they have what it takes to become this year's champion.
About EuroTalk, the Junior Language Challenge and One Billion Children
The Junior Language Challenge is a national competition, which aims to show primary school aged children that languages can be fun. Using EuroTalk's interactive software, the children study up to three new languages, competing against others from their region and ultimately from across the country in the grand finale.
EuroTalk have been publishing language learning software for over 20 years, with a range of products now covering over 130 languages.
The company has a mission to help a billion children in the world who do not have access to a basic education. EuroTalk are creating primary software, which will be available in over 200 languages. This means that children around the world, many for the first time, can learn using apps in their native language.
The £2.50 entry fee paid by each child taking part in the JLC will be used to purchase tablet devices for schools in Malawi on which children can learn in their native language, Chichewa, using EuroTalk software.