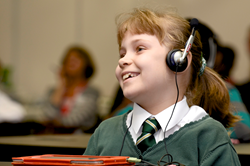 Our semi-finalists have done brilliantly to master Italian, but Japanese will be a tough new challenge.
London (PRWEB UK) 1 July 2014
The young linguists, who are all aged 10 (year 5) or under, have been learning Italian since March, using free online software provided by EuroTalk, organiser of the annual Junior Language Challenge (JLC). Having earned their place in the second round by scoring points in the online games, they now face a new challenge – to get to grips with Japanese ready for the live semi-finals.
"It's been great to see so many children getting involved in the JLC this year," says Richard Howeson, EuroTalk's chairman. "Our semi-finalists have done brilliantly to master Italian, but Japanese will be a tough new challenge."
The semi-finals will be held at venues around the country, and will see the children face off in a live competition, playing games on iPads to decide who goes on to the grand final. The highest scoring pupils will then be given a third language to learn before the final at Language Show Live in London, in October.
The competition, now in its tenth year, was established by EuroTalk to inspire a love of languages in children at a young age, and to support primary schools, for whom languages will be a compulsory subject from September.
This year's JLC raised close to £6,000 for EuroTalk's chosen charity, onebillion, and will be used to support education for children in developing countries through the provision of apps to teach literacy, numeracy and English. The JLC champion will win a family holiday to Africa, and have the opportunity to see the results of onebillion's work; the 2013 winner, Ella Whittingham from West Bridgford, is visiting Malawi with her family later this year.
For more information about the JLC, or to enquire about next year's competition, please contact Liz Dyer on 0207 371 7711.
About EuroTalk
EuroTalk, based in London, UK, have been publishing language learning software for over 20 years, with a range of products now covering over 130 languages. The company's mission is to create language learning materials that motivate and entertain users of all ages.