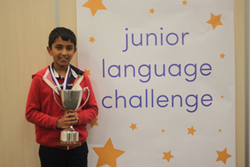 Realising that I'd won was mind-blowing. I'd never won such a big trophy in my life!
London (PRWEB UK) 7 November 2014
'Realising that I'd won was mind-blowing,' says Junior Language Challenge (JLC) champion Yash, who attends Fairfield Preparatory School. 'And what made it even more special was that I'd never won such a big trophy in my life!'
The JLC invites primary school children from across the UK to learn up to three new languages through online games created by educational publisher, EuroTalk. Over 1,100 children entered the competition, which aims to inspire a love of languages at a young age. It also raises money for charity onebillion, supporting their mission to supply educational apps for primary schools in Malawi.
'We're very pleased with Yash's triumphant win,' add his proud parents, Soumitra and Sri. 'This process enabled him to acquire and develop an aptitude for learning new languages. Huge thanks to the JLC for this opportunity.'
Now in its eleventh year, the Junior Language Challenge was the brainchild of Richard Howeson, EuroTalk's chairman. 'We want children to feel confident learning a language – any language – and to understand that it doesn't have to be boring or difficult,' he explains. 'We had a great day at the final, and all our competitors had obviously worked their socks off. But Yash put in an incredible performance, and his victory was very well-deserved.'
The champion has now returned to school after the half term break, where he and his trophy received a warm welcome.
The Junior Language Challenge 2015 will launch in March. For more details visit the website or contact Liz Dyer at EuroTalk.
About EuroTalk
EuroTalk, based in London, UK, have been publishing language learning software for over 20 years, with a range of products now covering over 130 languages. The company's mission is to create language learning materials that motivate and entertain users of all ages.