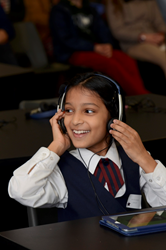 My son enjoyed every second of last year's competition and I'd recommend it to all children.
London (PRWEB UK) 18 March 2015
Numbers, colours and greetings are just some of the words children will get to grips with in a foreign tongue as part of the annual Junior Language Challenge (JLC).
The competition, organised by educational publisher EuroTalk, invites children aged ten and under on September 1st 2015 to discover just how easy it is to learn a new language using online computer software.
The software, which features native speakers and interactive games, challenges the children to score points for correct answers; the highest scorers then go through to a series of heats in a bid to win the top prize of a family holiday of a lifetime in Africa.
"My son enjoyed every second of last year's competition and I'd recommend it to all children," says mum and head teacher Julia Summers from Lincoln, whose son was a finalist in the JLC 2014. She will be introducing the challenge at her school for the first time this year.
Competition founder Richard Howeson adds: "Children learn so much better when they're having fun and that's what this competition is all about. And if they say 'um', when they start learning their numbers in Portuguese, so much the better!
"Mind you, numbers two and three ('dois' and 'três') aren't quite so easy..."
Entering the competition, which is now in its eleventh year, costs £5 per child, which is donated to onebillion, a charity creating educational apps for children in developing countries.
Registration to the JLC will open when the event launches on 19th March. Children who progress to the grand final, which will be held in October at London's Language Show Live, will learn a total of three new languages over the course of the competition.
Organisers hope the event, which attracted more than 1,100 entries in 2014, will prove even more popular this year. For more details contact Liz Dyer.
About EuroTalk
EuroTalk, based in London, UK, have been publishing language learning software for over 20 years, with a range of products now covering over 130 languages. The company's mission is to create language learning materials that motivate and entertain users of all ages.