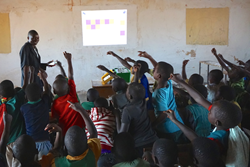 It's a really exciting experiment, and each of this year's Junior Language Challenge competitors will play a vital role in taking it forward.
London (PRWEB UK) 13 October 2015
More than 1,000 children across the UK have competed to be crowned the Junior Language Challenge Champion with their entry fees raising £5,000+ for the non-profit organisation onebillion.
This vital cash injection will help onebillion pilot and spread the use of newly-customised solar-powered projectors to increase the number of pupils accessing their unique maths and English-learning software tools.
Onebillion CEO and co-founder Andrew Ashe said: "This donation is hugely important because it will allow us to test our new projector in more schools, before we seek further funding to scale the project. It's a really exciting experiment with huge potential, and each of this year's Junior Language Challenge competitors will play a vital role in taking it forward."
Richard Howeson, EuroTalk's chairman and founder of the Junior Language Challenge (JLC) says supporting children to learn in other countries is a great extra benefit for the UK competition: "We believe every child should discover that joy of learning, no matter where they come from, so it's especially fitting that the JLC helps onebillion to spread this learning using new, innovative methods."
The final of the Junior Language Challenge takes place on Friday 16th October at Language Show Live, London Olympia with the champion winning a family holiday to Africa to see onebillion's work in action.
The Junior Language Challenge is an annual competition for children aged 10 and under running from March to October. It takes place over three rounds, with the children learning a new language for each - Portuguese, Mandarin and Arabic using the games in EuroTalk's online software. This year's competition saw over 1,100 children representing 60 primary schools across the UK with 33 finalists.
Background
For more details, contact Liz Dyer, EuroTalk Marketing Manager on 0207 371 7711 or liz(at)eurotalk(dot)com. EuroTalk is a friendly, fun British-based language learning company with the biggest range of languages to choose from - 150+ of them - across apps and in-store products.
The company wants to enable people all over the world, of any age, to start learning to talk in a new language simply and with immediate results. (For more details, visit eurotalk.com)
onebillion aims to transform the lives of one billion children by helping them become fluent in English and maths learning through their own languages. For more details about onebillion please contact Andrew Ashe at info(at)onebillion(dot)org or visit onebillion.org.