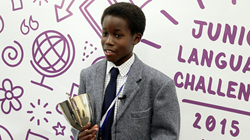 London (PRWEB UK) 16 October 2015
Ludgrove School pupil Tudor, who's from Wokingham, first entered the Junior Language Challenge (JLC) when he was just six. After coming third in 2013, this time he left nothing to chance and was delighted to win:
"I'm very proud," says Tudor. "All the hard work has paid off, because it's been quite a long time! My favourite language this time was Mandarin, because I enjoyed the way it related to other languages I'd learnt before."
"If he puts his mind to anything he goes for it with all of his heart," explains Tudor's dad, Tolu. "And because he's now in boarding school, all he's achieved this time he's done it on his own. Absolutely on his own."
The winner of this year's Child Genius, Thomas Frith, awarded Tudor's trophy and prize of a family holiday to Malawi, where he'll have the chance to see the work of onebillion – the charity that benefits from the JLC entry fees.
"Languages are really important," says 12-year-old Thomas. "They're fun, they stretch your mind and let you talk to other people, which I feel is polite, rather than expecting everyone else to learn English."
Tudor beat off competition from runners-up Aalaya Sanjeeva from The Hawthorns School and Isobel Eason, a pupil at Red House School, to win the national language challenge for primary school children, which began in March with 1,100 contestants from around the UK. This year's JLC raised over £5,000 for educational charity onebillion, which aims to help one billion primary school children across the developing world to be fluent in maths and English.
Background
For more details, contact Liz Dyer, EuroTalk Marketing Manager on 0207 371 7711 or liz(at)eurotalk(dot)com. Photos from the event can be found at eurotalk.com/jlcphotos and a video will be available shortly.
EuroTalk is a friendly, fun British-based language learning company with the biggest range of languages to choose from - 150+ of them - across apps and in-store products.
The company wants to enable people all over the world, of any age, to start learning to talk in a new language simply and with immediate results. (For more details visit eurotalk.com)