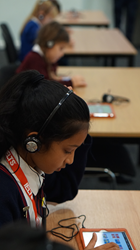 When I came second I couldn't believe it. I still can't believe it.
London (PRWEB UK) 21 October 2015
In Friday's tense contest, Aalaya was narrowly beaten by Tudor Mendel-Idowu, a former runner-up on Channel 4's Child Genius. After three years chasing the title, Aalaya is delighted to have done so well on her final attempt:
"It felt so great and seriously nerve wracking while we were playing, when I came second I couldn't believe it. I still can't believe it," she said. "The whole experience is a lot of fun and since you know where the money is going and what it is helping with, it inspires you and makes you work even harder for it!"
This year's competition has raised over £5,500 for onebillion. The vital cash injection will be used to pilot and spread the use of newly-customised solar-powered projectors to increase the number of pupils accessing their unique maths and English-learning software tools.
The Junior Language Challenge is an annual competition for children aged 10 and under running from March to October. It takes place over three rounds, with the children learning a new language for each, using the games in EuroTalk's online software. This year's competition saw over 1,100 children representing 60 primary schools across the UK. The top 33 competed in Friday's final, where prizes were awarded by Child Genius winner Thomas Frith.
Aalaya's teacher at The Hawthorns School, Jackie Gliniecka, has entered pupils in the JLC every year since 2005: "So many of my pupils have benefitted in so many ways from this wonderful competition; not only do they get the chance to try lots of different languages, but also it opens windows onto the world, helping to turn them into good global citizens. Aalaya was ecstatically happy to have come second this year and the whole school is so proud of her."
Background:
For more details, contact Liz Dyer, EuroTalk Marketing Manager on 0207 371 7711 or liz(at)eurotalk(dot)com.
EuroTalk is a friendly, fun British-based language learning company with the biggest range of languages to choose from - 150+ of them - across apps and in-store products.
The company wants to enable people all over the world, of any age, to start learning to talk in a new language simply and with immediate results. (For more details visit eurotalk.com)
onebillion aims to transform the lives of one billion children by helping them become fluent in English and maths learning through their own languages. For more details about onebillion please contact Andrew Ashe at info(at)onebillion(dot)org or visit onebillion.org.