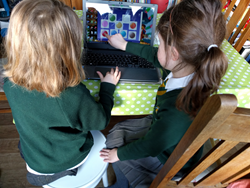 It's a really fun way for kids to learn languages and doesn't rely on having a teacher present.
London (PRWEB UK) 4 April 2016
The Junior Language Challenge (JLC), run as a charity fundraising event by the British-based language company EuroTalk, aims to make languages fun and accessible for children aged 10 and under. It hopes to raise their awareness of other cultures – including those increasingly represented in the UK.
Richard Howeson, EuroTalk's chairman, explains, "We're delighted to be offering Romanian in the first round of the JLC this year. Children always respond well to learning languages at a young age and with just a few words, they'll be able to help make new friends feel welcome."
The language choice has been welcomed by teachers and parents. "I was really excited to hear that this year's JLC is starting with Romanian. We have Romanian families at school, so my girls can use what they're learning straight away," says parent Sarah Barrett, whose daughters are taking part in the JLC for the second time this year.
As owner of Lingotastic, a Buckinghamshire-based company providing language classes for families, Sarah understands the value of introducing children to languages at an early age. Her own three, aged 6, 8 and 15, are already familiar with several languages, including German, French and Mandarin. "We're all about a fun start into languages, playing and learning along the way. We think the JLC fits the bill.
"It's a really fun way for kids to learn languages and doesn't rely on having a teacher present. We took part last year and all picked up some Portuguese. It's great for building children's confidence and language skills."
The first round of the competition lasts until June, with a new language set for regional semi finals in September and the grand final at Language Show Live in London in October.
Each child that enters the Junior Language Challenge pays a £5 donation to EuroTalk's sister charity onebillion, who create unique maths and English-learning software tools for children in developing countries.
Last year's competition raised £5,500 towards the launch of a solar-powered projector for use in Malawian primary schools, and EuroTalk are aiming to double that total in 2016.
Background
For more details, contact Liz Dyer, EuroTalk Marketing Manager on 0207 371 7711 or liz(at)eurotalk(dot)com.
See last year's winner in the video on the JLC website.
EuroTalk is a friendly, fun British-based language learning company with the biggest range of languages to choose from - 150+ of them - across apps and in-store products.
The company wants to enable people all over the world, of any age, to start learning to talk in a new language simply and with immediate results.