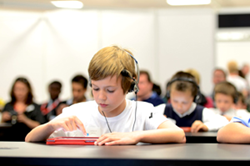 The children are glued to their computer screens when the competition is on and are incredibly motivated to learn.
London (PRWEB UK) 18 March 2014
Launching on March 20th at the Education Show in Birmingham, each entrant in the Junior Language Challenge is given online access to language learning tuition worth £29.99 in exchange for a £5 donation to a charitable organisation.
All the proceeds from the JLC, which attracts more than a thousand entrants annually, will go to onebillion, a charitable organisation that helps educate children in developing countries.
Schools from across the country typically enter the competition, which is now in its tenth year, and teachers credit it with inspiring a love of languages in their pupils.
"The children are glued to their computer screens when the competition is on and are incredibly motivated to learn, and compete against each other and themselves to get the best score," says teacher Susannah Stockton, from Oakwood School in Chichester. "Lots of them tell me that they never knew before entering this competition how easy learning languages was and how much they liked it!"
The online language learning program, which features native speakers, works by encouraging children to play language games and score points.
The highest scoring pupils then go through to round two of the competition and the top scorers from this heat go through to the JLC Final due to be held in London in October, where they compete for the top prize of a family holiday to Africa.
"The key to learning is to make it fun and, we hope, that all our entrants get a real buzz out of scoring points and learning new words," says EuroTalk chairman Richard Howeson.
"The first language they will be trying out is Italian and, although we're not encouraging them to follow in the footsteps of Michael Caine in The Italian Job, they will be learning the Italian for car ('la macchina') and where is the bank? ('dov'è la banca?')!" he says.
The Government's spotlight is on languages at the moment, he adds, as from September 2014 language learning will become compulsory in primary schools across the UK.
Registration for the competition will open for individuals and schools online on March 20th.
About EuroTalk
EuroTalk, based in London, UK, have been publishing language learning software for over 20 years, with a range of products now covering over 130 languages. They have been running the Junior Language Challenge for over ten years. The JLC 2013 winner, Ella Whittingham from West Bridgford, Nottingham, will be visiting Malawi later this year.