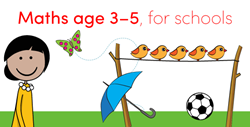 We can pretty confidently say that no other app on the market comes anywhere near it in breadth and scope of early years maths coverage.
London (PRWEB UK) 31 October 2013
The app, created by educational publisher EuroTalk, allows children all over the world to learn and practise in their own language, with over thirty languages already included and more on the way.
And after proving a hit with parents and children since its release, a new version of the app is now available for teachers to use with a whole class. Maths age 3-5, for schools can be purchased and installed on multiple iOS devices, with plans to add a feature in the future that will allow teachers to monitor student progress. Schools can take advantage of special educational pricing when they purchase through the Apple Volume Purchase Programme.
"Maths, age 3-5 is rich in learning content and covers the entire early years programme for this age group. We can pretty confidently say that no other app on the market comes anywhere near it in breadth and scope of early years maths coverage," says Steve Eatock, EuroTalk's education director. "We've worked hard to create groundbreaking apps that offer a unique combination of teaching and practice activities. And because Maths, age 3-5 is based on the early years curriculum, it's a perfect complement to classroom teaching."
Once downloaded, additional languages can be added to the app at no extra cost, so that children whose first language is not English can also use it at school. The app is audio-driven, so reading ability is not an issue, and covers ten foundation topics, with 80 different sets of activities for the children to complete.
Besides Maths age 3-5, for schools, EuroTalk's two maths practice apps are also available for schools to purchase. Maths Practice - Count to 10 and Count to 20 offer children an extra resource to develop this key skill, taking them through five levels of difficulty and awarding them a certificate when they complete the app.
A schools version of Maths, age 4-6, EuroTalk's second maths app, is also under development.
About EuroTalk
London-based educational publisher EuroTalk has been creating language learning software for over 20 years, with a range of products now covering over 130 languages.
The company has a mission: to help a billion children in the world who do not have access to a basic education. EuroTalk is now creating primary software, starting with maths, which will be available in over 200 languages. This means that children around the world, many for the first time, can learn using apps in their native language.
EuroTalk's maths apps are currently the subject of an evaluation by The University of Nottingham. The study will examine whether learning has taken place among children in Malawi, who are using the apps in their native language of Chichewa. The results are due to be published next year.