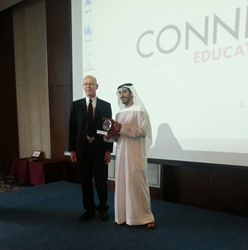 EuroTalk is now excellently positioned to deploy our content to thousands of learners.
London (PRWEB UK) 28 May 2014
Working in partnership with UK online education provider Learndirect and UAE company ConnecME Education, EuroTalk will supply e-learning language courses to businesses and higher education establishments across the region.
EuroTalk was among the guests invited to the ceremony on 21st May, which also included global companies Learndirect, City & Guilds and EnlightKS. The aim of the event was to bring together leading experts in the education sector and design a solution to empower young people across the MENA (Middle East and North Africa) region.
Steve Eatock, Worldwide Education Manager at EuroTalk, represented the company at the event. "We are proud to have been selected as a UK supplier for this purpose," he says. "EuroTalk is now excellently positioned to deploy our content to thousands of learners in a range of scenarios, from higher educational institutions to oil refineries and the government sector."
EuroTalk is confident that it will be able to contribute to raising educational standards in the region. The UAE has one of the highest GDPs per capita in the world with 7.1 % of the world's proven oil reserves, currently producing around 2.6 million barrels a day. Its reserves of oil and natural gas both rank in the top ten largest in the world. Abu Dhabi has the largest share of this and controls 94% of the UAE's overall oil production.
Abu Dhabi's leaders are determined to diversify Abu Dhabi's economy, not least for long term economic security, and they regard education, and particularly language skills, as key to this process. They are also persuaded of the virtues of using digital technology in this process.
There is a keen interest in English, Arabic, and a range of other languages, which are represented in the UAE's very diverse expat community, and EuroTalk, with its range of over 130 languages, is ideally placed to meet the need.
About EuroTalk
EuroTalk is an educational publisher based in London, UK. Established in 1991, the company creates language learning apps and interactive computer software in over 130 languages, which have been used by more than 20 million people worldwide.