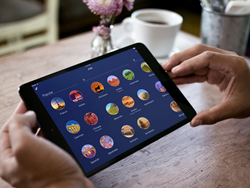 With uTalk, the days of pointing, smiling and nodding are well and truly a thing of the past.
London (PRWEB UK) 4 September 2014
uTalk is free to download and gives users access to fifteen key words (including 'hello', 'thank you', 'please' and 'I don't understand') in all 100 languages, with paid upgrades within the app to unlock further conversation topics. The 30 languages added in this version include Scots, Sicilian, Lao and Amharic.
"There's nothing worse than arriving in a foreign country and not even knowing how to ask for a drink of water, let alone anything more difficult," says EuroTalk's chairman, Richard Howeson. "With uTalk, the days of pointing, smiling and nodding are well and truly a thing of the past."
uTalk uses addictive games to help commit the vocabulary to memory, and includes audio by male and female native speakers, along with a recording feature, to help practise pronunciation and perfect accent. The Instant Search turns the app into a mobile phrasebook, letting users quickly find words they need, when they need them. And a World Tour game invites learners to travel the world, collecting achievements and visiting new destinations as they progress.
The latest version of the app has a new design for iOS7, and, for the first time, is optimised for iPad. "We're really excited to be able to share the new-look uTalk with iPad users," says Richard Howeson. "We've taken on board all the great feedback we've received from customers, and hope they'll be as happy with the results as we are."
uTalk is available to download for free from the App Store, with upgrades to Essentials (300 words) and Premium (1,200 words) available as in-app purchases.
For more details, download the uTalk press pack or contact Liz Dyer, Marketing Manager.
uTalk is now available in the following languages:
Afrikaans, Albanian, Amharic, Arabic (Egyptian / Modern Standard), Armenian, Assamese, Azerbaijani, Basque, Belarusian, Bengali, Bosnian, Bulgarian, Cantonese, Catalan, Cebuano, Chichewa, Chinese (Mandarin), Croatian, Czech, Danish, Dari, Dutch, English (American / Australian/ British / Canadian / Scottish), Estonian, Finnish, French, Galician, German, Greek, Gujarati, Haitian Creole, Hausa, Hebrew, Hindi, Hungarian, Icelandic, Igbo, Indonesian, Italian, Japanese, Kachchi, Kannada, Kazakh, Korean, Kurdish (Sorani), Kyrgyz, Lao, Latvian, Lithuanian, Macedonian, Malagasy, Malay, Malayalam, Maltese, Marathi, Mongolian, Nepali, Norwegian, Pashto, Persian, Polish, Portuguese (Portuguese / Brazilian), Punjabi (Indian), Romanian, Russian, Sardinian, Scots, Scottish Gaelic, Serbian, Sicilian, Sinhala, Slovak, Slovenian, Somali, Spanish (Spanish / Argentinian / Latin American), Swahili, Swedish, Tagalog, Tamil, Telugu, Thai, Tigrinya, Tswana, Tumbuka, Turkish, Turkmen, Ukrainian, Urdu, Uzbek, Vietnamese, Wolof, and Yoruba
About EuroTalk
Educational publishers EuroTalk have been making language learning software for over 20 years, with a range of programs and apps now covering 140 languages. The London-based company's software has been used by millions of language learners all over the world.