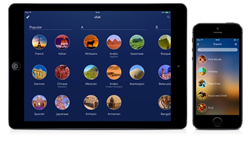 a one-stop app for learning the basics in any country you might go to
London (PRWEB UK) 19 May 2015
uTalk, made by language learning company EuroTalk, aims to provide travellers with the essential vocabulary they need to get by almost anywhere in the world. The nine languages added in the most recent update are Fijian, Tok Pisin, Shona, Chibemba, Oromo, Kinyarwanda, Luganda, Samoan and Irish.
The app has proved popular since its release in 2014, with reviewers on the App Store describing it as "amazing", "professional, clean and simple", and "a one-stop app for learning the basics in any country you might go to".
For users who want more than the essential words included with the free app, uTalk offers paid upgrades to Essentials (£7.99) with 360 words and phrases, or Premium (£11.99), which includes over 1,200 across 37 categories. The latest update adds Family and Animals to the existing list of topics, which includes Food and Drink, Emergencies, Social Phrases and Numbers, as well as a culture section with vocabulary specifically related to the language.
In addition, uTalk acts as an interactive phrasebook while travelling; the Instant Search allows users to quickly and easily find the right word, with no need for an internet connection.
Each topic within the app contains a selection of addictive games and activities designed to help users remember the vocabulary they have learnt. A World Tour offers extra motivation, as users collect achievements on a round-the-world journey.
"Being able to say a few words in the local language - even if it's just 'hello', 'thank you' or 'I don't understand' - can make such a huge difference when you're visiting another country," explains Richard Howeson, EuroTalk's chairman. "And that's why uTalk is a must-have accessory for anyone going travelling."
uTalk is available to download now from the App Store. For press or review enquiries, contact Liz Dyer, Marketing Manager.
About EuroTalk
EuroTalk, based in London, UK, have been publishing language learning software for over 20 years, with a range of products now covering over 130 languages. The company's mission is to create language learning materials that motivate and entertain users of all ages.