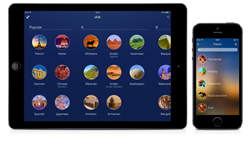 One of our aims with uTalk is to help people from different countries become friends by speaking the same language.
London, UK (PRWEB UK) 15 July 2015
Language learning app uTalk, which is free to download from the App Store for iPhone and iPad, now includes the following new languages: Sindhi, Punjabi (Pakistani), Burmese, Oriya, Esperanto, Javanese, Ilocano and Pidgin (Nigerian). For each language, the free app from EuroTalk includes fifteen essential words, with paid upgrades to unlock up to 1,200 words and phrases covering 36 topics. It also has the option to learn from all 128 native languages, which means the app can be used almost anywhere in the world, and not only by English speakers.
"One of our aims with uTalk is to help people from different countries become friends by speaking the same language," explains Richard Howeson, EuroTalk's chairman. "That's why we're so excited to be adding Esperanto, a language that embodies that spirit of friendship and has the single aim of bringing people together."
Esperanto was created in 1887 by Dr L.L. Zamenhof, with the intention of uniting people across the world through a single language, whilst allowing them to retain their unique cultural identities. Esperanto speakers now number between 10,000 and 2 million, with over 1,000 who speak it as a native language, and the community has welcomed enthusiastically the opportunity to share their language with a wider audience.
The vocabulary for uTalk was translated by Esperantists Katalin Kováts, Malcolm Jones and Petra Smideliusz, and recorded by Sylvain Lelarge and Katalin Kováts, in collaboration with EuroTalk's Language Producer, Nat Dinham, who says, "We've been struck by the incredible warmth and friendliness of the Esperanto community. Working on the app felt like a real team effort, and what a lovely team to work with!"
uTalk uses games and activities to help users remember useful vocabulary, practise speaking the language, and then recall it when they need it. The app will be demonstrated to visitors at the upcoming 100th World Congress of Esperanto, which begins on 25th July in Lille.
Esperantists are optimistic about the future of their language, and its power to continue uniting people across the globe. Katalin Kováts of Edukado.net explains, "It will be a real step forward when people of goodwill understand that peaceful relationships between nations need a neutral second language, one which is of everybody. It exists, it works, and it is really easy to learn: it's called Esperanto."
For more information about uTalk, download the press pack or contact Liz Dyer, Marketing Manager. Review copies are available.
About EuroTalk
EuroTalk, based in London, UK, have been publishing language learning software for over 20 years, with a range of products now covering 150 languages. The company's mission is to provide language learners with the essential vocabulary they need, when they need it, and a motivating and entertaining way of learning.