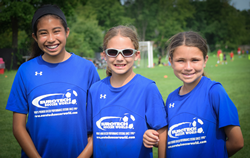 "Founded in 1990, this year marks Eurotech's 29th year operating summer soccer camps nationally and in Illinois"
NEWPORT NEWS, Va. (PRWEB) May 02, 2019
Eurotech® Soccer World, developer and exclusive provider of North America's premier technical soccer training system, has released its 2019 summer soccer schedule of Illinois soccer camps. Camps will be held from July 14 through 26 at the Under Armour® Performance Soccer Center on the campus of Lake Forest College in Chicago's prestigious North Shore suburbs.
This year marks Eurotech's 29th year of running high-quality soccer camps, and Illinois camps have been a major part of the schedule every year. Lake Forest College has been Eurotech's Illinois home since 2001, and for good reason. "LFC has strong Division III programs for both men and women, creating a culture of top-notch soccer," said Eurotech® Director Jim Risher. "And with a multi-million dollar athletic complex with an indoor turf soccer field and a newly renovated dining center, it's exactly the kind of facility Eurotech® players can use to reach the next level."
Eurotech's soccer instructional camps will take place from July 14 through 26 and are open to boys and girls ages 7-16. Campers can choose from 4-Day, 6-Day, and 12-Day sessions, with Junior Day, Full Day, Extended Day and Overnight options available for all. Like all Eurotech® offerings, the Lake Forest College soccer camps are designed for competitive individual players and small groups, as well as club and high school teams, with integrated programs for field players and goalkeepers.
Enrollment is limited to 100 campers per week and demand is high, so early registration is strongly recommended to ensure placement. Also, campers who act quickly can also take advantage of several discount opportunities, including an Early Registration discount of $30, a Returning Camper discount of $30, and a Family Camper discount of $30. Call or email for soccer club and small group discount programs.
For complete information about Eurotech's Chicago area soccer camps, including pricing, visit http://www.eurotechsoccer.com.
About Eurotech Soccer World
Founded in 1990, Eurotech® Soccer World is globally recognized for developing North America's premier technical soccer training system, the result of 29 years of international research and intense study of the world's top professional academies and youth systems. Key features of this elite instructional system include:

Programs designed for competitive individual players, club and high school teams
Unique mix of individual technical and tactical instruction, combined with tournament-style matches to develop creative, versatile and confident soccer players.
Certified coaching staff recruited from the finest youth programs in the world and featuring former professional, Olympic, collegiate, and national team players and coaches.
First-class facilities, including college, sports centers and elite prep school campuses
Overnight, extended-day and full-day program options available
For more information, visit http://www.EurotechSoccer.com