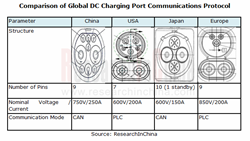 Dallas, TX (PRWEB) November 12, 2014
It is a consensus of all mankind to reduce emissions of greenhouse gases and dependence on oil. The concept that electric vehicles (EVs) can be an effective tool to cut carbon emissions has been widely accepted, and nations all over the world are promoting EVs.
As EVs need to be charged by charging stations, a certain amount of charging stations are essential for promoting new energy vehicles. And charging facilities like charging stations are hardware for the development of EVs, perfect supporting charging facilities will be the key to massive roll-out of EVs. Therefore, EVs and charging facilities are supplementary to each other.
International Charging Port Manufacturers:
Tesla, CHAdeMO Association, MENNEKES, Phoenix Contact.
Chinese Charging Equipment Manufacturers:
Nari Technology, XJ Electric, Shenzhen Auto Motion Electric Power Equipment, China Titans Energy Technology Group, Shanghai Potevio, Shanghai Xundao New Energy Technology, Suzhou Chilye Green Technology.
Purchase a copy of this report @ http://www.chinamarketresearchreports.com/contacts/purchase.php?name=114956 .
In 2013, global sales volume of EVs totaled 228,000, 17,600 of which were contributed by China. It is predicted that the figure in China will reach 50,000 in 2014 and surge to 146,000 in 2016.
By the end of 2013, State Grid had built 19,000 EV charging piles and 400 charging/battery swap stations (including 209 charging stations and 191 battery swap stations), in contrast to 3,528 charging piles and 118 charging/battery swap stations established by China Southern Power Grid, which lays stress on the construction of intelligent charging/battery swap service network in the Pearl River Delta region.
The connection between charging station and EVs lies in the process of charging, which depends crucially on identification and communication of charging port. The standards for charging port, part of all-important basic ones, involve EVs, charging infrastructure and charging equipment. Hence unification of domestic standards and coordination of world standards are of great significance for promoting EVs.
EV charging ports can be divided into four systems, which have different standards under various conditions of power supply. In the case of AC power, the IEC (International Electrotechnical Commission) standard enjoys a wider scope of uses, while GB 20234 and SAE J1772 are partly adopted by China and the United States in the four regions with rapid development of EVs; under the DC power supply, Europe fully adopts the IEC standard, China GB 20234, the U.S. SAE+IEC and Japan CHAdeMO+IEC. Moreover, only Europe and the U.S. propose the application of combined charging port.
EV AC charging standards have differences only in aspects of physical interface and electrical/voltage signals, since AC charging is a process in which power source is supplied to on-board motor; with respect to DC charging, communications protocol is needed, and it is a process in which power source is directly supplied to EVs by off-board motor. China and Japan adopt CAN, compared with PLC employed by the U.S. and Europe, which causes difficulty in unifying DC charging standards.
Global and China EV Charging Port Equipment Industry Report, 2014-2015 (http://www.chinamarketresearchreports.com/114956.html) focuses on the followings:

Classification, structure and development of charging station/port.
Global and Chinese EV market, including policies, technological level, production & sales and types of charging port.
Global and Chinese charging station market, involving policies, technology distribution, size and development plan.
Global and China's standards for charging station port and development direction (DC, AC and combined charging), covering areas of application, development level and cooperation.
2 major global charging station port manufacturers and 2 supporting charging port companies, covering operation, technology, development plan, regions and car models supported.
5 Chinese charging equipment manufacturers and 3 supporting charging port companies, involving operation, technology, development plan, and production & sales.
Concerning AC charging in the Chinese charging pile market, the disunity of physical size of charging port can be solved by using adapter or vehicles' own cable, thus basically realizing interchangeability of charging. AC charging piles will be built by State Grid, parking lots and carmakers in a parallel way; with respect to DC charging, State Grid dominates the construction of DC charging piles, and European and American carmakers can only make small-scale progress in some regions. Furthermore, in order to massively import EVs to the Chinese market, these foreign carmakers have to change communications protocol to accommodate international DC charging communications protocols.
List of Charts
EV Charging Pile
Structure of EV Charging Station
EV Charging Station Industry Chain
EV Charging Port
Comparison of Global DC Charging Port Communications Protocols
List of Fiscal Subsidies for EVs in Various Countries
List of Targets for EV Production and Sales in Various Countries
Global EV Sales Volume (by Country), 2013
Global EV Sales Volume, 2008-2016E
Sales Volume Breakdown of EVs in USA (by Model), 2012
Sales Volume Breakdown of EVs in USA (by Model), 2013
Sales Volume Structure of EVs in Europe (by Model), 2013
Sales Volume Breakdown of EVs in Europe (by Country), Jan.-Jun. 2014
Browse more reports on Automotive & Transportation Industry @ http://www.chinamarketresearchreports.com/cat/automotive-transportation.html .
About Us:
ChinaMarketResearchReports.com (http://www.chinamarketresearchreports.com/ .) is an online database of market research reports offer in-depth analysis of over 5000 market segments. The library has syndicated reports by leading market research publishers across the globe and also offer customized market research reports for multiple industries.