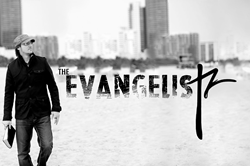 The first time I saw Tommie Zito I didn't know he was an evangelist, but I knew he was a star!
Miami, FL (PRWEB) June 21, 2014
International Evangelist Tommie Zito, known for his stirring, in-your-face messages, will begin production on a new show based on his life, family and ministry starting this summer. "The Evangelistz" will be a day in the life type series showing Zito, along with his wife Kimberly and their three daughters, in their family's quest for souls. Several couples who work closely with the out-of-the-box-looking revivalist have been cast in the show alongside him.
Brother Tommie, as he is known to many, will allow cameras into his private life, the traveling ministry and all that it entails, his church campuses in Florida, his new Evangelistic work in Georgia, and some filming of humanitarian projects overseas. The show will feature the upcoming 2015 and 2016 Stars and Stripes Tour as Zito, who is often found wearing bold white glasses, travels around in his newly acquired 10,000 seat America Dome. This dome is a more modern version of the big top tents of the 1950's that faith healing preachers Oral Roberts and AA Allen made famous. The Zito's tour will head to major US cities with an effort to call people back to prayer and to God.
Unlike most other hard-line preachers, Zito's target message according to his own words is "not blasting the world for its sin, but the shaking and awakening of the 400,000 plus churches to reach out and help people out of that sin." When asked what he wants to see come from this show he quickly responded, "The only hope for America is a third great spiritual awakening. Our children are growing up in a country worse than our grandparents could have ever imagined. We must expose what is really happening to our next generation. People's mouths will drop on this show. I'm not against or anti anything...I'm pro Christ-like behavior and for people...all people."
The Zito's, along with a team of youthful and committed followers, have claimed to have brought over two million converts to Jesus. He has conducted over 7,000 revival services in various denominational churches and parishes across America and around the world. His pentecostal fire services are renowned for the "Presence of God," which he says comes over people and many fall to the ground laying there for hours, sometimes even until the next morning. Many have supposedly received miracle healings, deliverances and wonders in their life due to this bizarre experience in his services.
Zito is also known for his patriotic-themed rallies. His ministry, known as The American Awakening, holds special services calling for a Puritan-type renewal of this country. Patriotic songs are sung, founding fathers are quoted, even military tributes and prayers are done and conducted by local officials and color guards. Flags are then laid out and held by congregants as cries go out for the "healing of the land."
Zito has partnered with fellow New Yorkers Chuck Ardezzone and Frank Monti and their Naples, Florida based media outfit "In Trouble Zone Productions." They have produced many reality shows and are considered by many the rising star team in the industry, specializing in unique and diverse shows. Ardezzone, a successful actor along with producing now for years himself said, "We already have several major television networks very interested in this project; there's just nobody like Brother Tommie. I researched him a year before I actually met him and knew what he does would be a great thing to show on television and be involved with. There will be nothing like it on air. Nothing." Monti, who works intensely with the talent and specializes in the creative and marketing side put it boldly: "The first time I saw Tommie Zito I didn't know he was an evangelist, but I knew he was a star!" Production is set to begin June 29th.
For more information, go to http://www.theevangelistz.com.
Independent Press