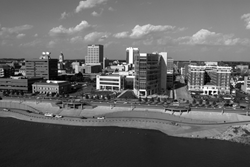 From Haier America...to Berry Plastics...it's evident that great work is being done in Southwest Indiana.
Evansville, IN (PRWEB) August 12, 2015
The City of Evansville, Indiana has been named one of the Top 10 places to do business by Business Review USA, a leading digital media source of news and content for C-level executives. Based on research by Forbes, CNN and other data sources, Evansville ranks fifth on the list of top places to do business, with average revenue of businesses over $1.8 million per year. Other notables on the list were Fort Wayne, Indiana (6th) and San Jose, California (1st). Evansville, the third largest city in the state of Indiana, is the economic hub of the Evansville, IN-Henderson, KY metropolitan statistical area with a population of 314,000.
"When we learn a company is considering Evansville, we roll out the red carpet and aggressively court that company – quickly determining their specific needs and customizing an incentives package offering a mix of training grants and tax credits," said Evansville Mayor Lloyd Winnecke. "But our efforts go beyond finding the most suitable location and tax benefits. We offer a personal touch to let businesses know they are not just another number. We also share our core values so companies know their business and employees are welcome here."
Helping get those looks for the Evansville region or "Indiana's Great Southwest" is the Economic Development Coalition of Southwest Indiana. Greg Wathen, President & CEO of the Coalition says that although making these type of lists is great, it merely lets us know we're on the right track.
"The word is getting out about Evansville and the surrounding area," states Wathen. "From global companies like Haier America creating its first North American Research & Tech Center here to industry giant, Berry Plastics, making new investment in its plant and global headquarters; it's evident that great work is being done in Southwest Indiana."
Earlier in the year, Evansville was ranked by Nerd Wallet as #4 best place to start a business; and, this is something that entrepreneurial and millennial Alissa Fricke already knows. She started her business in Evansville due to the market opportunity for her business Thrive Marketing Strategies. "I see the positive momentum toward the creation/innovation environments that attract millennials today," Fricke said, "and that is what is going to make Evansville an even more exciting place to live and do business."
About the Economic Development Coalition
The Economic Development Coalition of Southwest Indiana acts as the marketing arm as well as the regional economic development and community development organization for Gibson, Posey, Vanderburgh and Warrick Counties in Southwest Indiana. The Coalition works with its local county economic development organization partners to facilitate attraction and business retention activities along with supporting efforts to enhance the business climate through regional capacity building. Since its formation in late 2006, the Coalition has helped to secure nearly $3 billion in new investment and 3,568 new jobs from existing and new companies such as Haier America, Berry Plastics, Mead Johnson, Toyota Boshoku, Midwest Fertilizer Corporation and AT&T.
Another important aspect of the Coalition's multi-faceted job description is helping the communities it serves build new capacity for future development in its role as a regional planning organization. The Coalition has helped secure more than $73 million in grants for key quality of place infrastructure such as expansion of water and sewer systems; building new community centers; and, making improvements to the region's levee system, which protects thousands of acres along America's inland waterways.