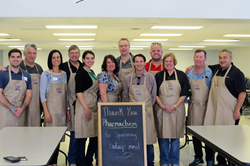 "We are pleased to have Pharmachem, a local Paterson business, participate once again in our Fund-A-Meal program." Marie Reger, Executive Director of Eva's Village.
Paterson, NJ (PRWEB) June 02, 2016
Eva's Village hosted a dozen employees from neighboring Pharmachem Laboratories, Inc., who participated recently in a hands-on, team-building,Fund-A-Meal program. Pharmachem's $5,000, gold-level sponsorship underwrites the cost of approximately two days of hot meals served to nearly 400 guests daily in Eva's Community Kitchen. Pharmachem specializes in the manufacture, processing and supply of custom and branded nutritional ingredients, serving the natural and nutritional, food and beverage, flavor and fragrance industries. The volunteers, who hailed from around the country and Canada, were in town to attend Pharmachem's annual sales meeting. The group pitched in to serve and clean up the meal after learning how Eva's Village grew from a simple soup kitchen 34 years ago into the 20 integrated antipoverty programs offered today. They also toured Eva's facilities, spanning several city blocks, and listened to an alumna describe how the programs at Eva's Village helped her find a path to recovery and a new life.
Pharmachem's Partnership with Eva's Village
Fund-A-Meal participation continues Pharmachem's support of Eva's Village, which began in 2011 when the company's president first learned about Eva's programs that serve the local community. "We are pleased to have Pharmachem, a local Paterson business, participate once again in our Fund-A-Meal program," stated Marie Reger, Executive Director of Eva's Village. "By reaching out and helping those in need in their community, Pharmachem is demonstrating their commitment to corporate citizenship," she said. Pharmachem is dedicated to giving back to the community on both local and global levels. In addition to helping in the Community Kitchen, Pharmachem provides funding, in-kind donations and volunteer assistance throughout the year, participating in the Summer Program for the children of Eva's Village and the Holiday Shoppe. Bob McCrimlisk of Pharmachem noted, "Our Fund-A-Meal volunteers were impressed with Eva's mission and dedication to serving the needs of our community. Eva's has been providing meals for longer than some of our volunteers have been alive," he observed.
More About Pharmachem
Pharmachem Laboratories, Inc.'s mission is to provide the nutrition industry with consistently superior ingredients and value-added services, world-wide, and, by doing so, help improve the nutritional standards and lifestyles of people on a global level. Pharmachem's charitable giving is the legacy of its founder and president, the late David Holmes, who was inspired to share the company's good fortune with those less fortunate. In addition to supporting local anti-poverty organizations like Eva's Village, Mr. Holmes played a key role in establishing Vitamin Angels, which provides nutritional support to underserved women and children around the globe. Pharmachem was established in 1979 with the purchase of Stanley Blackman Laboratories, a leading supplier of ingredients to the emerging natural and nutritional industries. Today, Pharmachem has expanded to comprise 13 processing and manufacturing facilities in North America, as well as five divisions across the United States.
More about Eva's Village
Founded by Msgr. Vincent E. Puma in 1982, Eva's Community Kitchen began by serving 30 meals a day in Paterson to feed the hungry. In response to the related issues of poverty, addiction, mental illness and homelessness in the community, over the decades additional programs and services grew out of the Community Kitchen to become Eva's Village, a non-profit, social service, anti-poverty organization that is one of the most comprehensive in New Jersey. For more than 30 years, Eva's Village carried out its mission to feed the hungry, shelter the homeless, treat the addicted, and provide medical and dental care to the poor with respect for the human dignity of each individual. Today, Eva's Village helps thousands of individuals rebuild their lives each year through 20 integrated programs addressing needs in the community for Food & Housing, Medical & Recovery Services, and Education & Training.