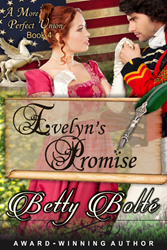 ... the Blessings of Liberty to ourselves and our Posterity...
Shrewsbury, Pennsylvania (PRWEB) February 11, 2016
ePublishing Works! announces EVELYN'S PROMISE by Betty Bolte, available in paperback (978-1-61417-819-4, 244 pages, $15.99 USD) and eBook format (978-1-61417-818-7, $3.99 USD).
GENRE:
Fiction, Romance, Historical
THE STORY:
Determined to make her own way in the emerging United States of America, and live free of the dictates and demands of another husband, widow Evelyn Hamilton faces new challenges and new opportunities as she struggles to provide for herself and her infant son in post-war early America.
Militiaman Nathaniel Williams is determined to make his fortune on the New Frontier. But during a visit to Charles Town (modern Charleston, SC), his heart is ensnared by a smart, beautiful widow, forcing Nathaniel to make the hardest decision of his life.
Read an excerpt from the book by clicking here.
A MORE PERFECT UNION SERIES, in order:
Emily's Vow
Amy's Choice
Samantha's Secret
Evelyn's Promise
ABOUT THE SERIES:
American history becomes real in the series A MORE PERFECT UNION. The Revolutionary War wasn't just about securing new rights for an emerging nation. The newly birthed concept of equal rights for ALL opened new possibilities for women, never before conceived. In this series, the reader follows several women as they face the struggles and opportunities confronting women in late 18th century, in and around Charles Town (Charleston, SC).
Discover the entire series by clicking here.
FROM BETTY BOLTE:
"I enjoy blending well-researched history with a good story, bringing both elements to light and giving it heart. This series was inspired by Judith Sargent Murray's essays written in the late 18th century, where she advocated equal education and opportunities (to a degree) for both boys and girls. Back then, men thought women didn't have the brain capacity for learning, and feared any attempt to educate women would cause illness. The concept of equal rights for ALL challenged this paradigm. Additionally, Charles Town was occupied twice by the British, prompting me to consider what that experience must have been like. All of these concepts—freedom, equal rights for ALL and the hardship of war—came together to inspire this series that reflects the day-to-day life and restrictions men and women faced in the late 18th century colonies/states."
WHAT READERS ARE SAYING:
"Betty Bolte's books are well written and well researched and a pleasure to read."--Amazon Reader
"Life-changing events, invigorating characters" --Frances
"Well written, smooth style, and likeable characters worked to make this a page-turner." --Raine
MEET BETTY BOLTE:
Award-winning author Betty Bolte has been addicted to all things related to the birth of the United States of America, ever since she visited Cowpens Battlefield in South Carolina, as a child. Making her home in southern Tennessee, she considers the men and women who started this country her heroes and heroines.
In her writing, Betty seeks to entertain while educating readers about life in the late 18th century, at the birth of the United States. When not writing, Betty enjoys hiking in the forest or strolling a hot sandy beach with her husband. Her love of animals is reflected in their roles within her stories.
Visit with Betty at http://www.bettybolte.com.
Discover and Purchase this and other titles from BETTY BOLTE by clicking here.
EVELYN'S PROMISE is available through online retailers, booksellers, subscription services and public libraries everywhere.
Wholesale buyers may order through Ingram or Baker & Taylor with return privileges.
ABOUT EPUBLISHING WORKS:
ePublishing Works! is a next generation digital print, audio and ebook publisher for career-minded authors who want to focus on their passion: writing great stories. From digital file preparation, cover design, sales copy, promotion and distribution, to royalty payment, ePublishing Works takes care of business while authors enjoy the freedom to write. For more information and submission guidelines visit us at http://www.epublishingworks.com or click here to request information.