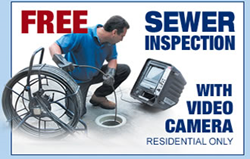 We thought it would be a good idea to do a toy drive again this year. We are always looking for ways to give back to the community and children who need toys are a great cause
Hayward, CA (PRWEB) December 09, 2014
Hayward plumbers at Evenflow Plumbing have been serving the local community for over 20 years. They are doing a holiday toy drive to benefit Toys for Tots. New customers who are purchasing trenchless sewer pipe replacement from Evenflow Plumbing can provide a new toy of at least $20 in value and receive $500 off their sewer pipe repair. The offer must be mentioned when scheduling an estimate and the agreement for the work must be signed and the toy delivered by December 23, 2014. The offer is not available for work already scheduled or completed. Representatives of Evenflow Plumbing will deliver the toys on Christmas Eve.
"We thought it would be a good idea to do a toy drive again this year. We are always looking for ways to give back to the community and children who need toys are a great cause. We are really going the extra mile this year by offering new customers a $500 discount on trenchless pipe replacement for participating," says Gary Dimodana, Owner of Evenflow Plumbing in Hayward. Some restrictions apply so people are encouraged to call these Hayward sewer repair experts at (510) 782-3649 to find out the details.
Evenflow Plumbing is a full service Hayward plumber but they specialize in trenchless sewer line replacements and pipe inspections. "We have the most advanced equipment available which allows our team to work efficiently, saving our customers money," says Dimodana. Trenchless sewer replacement is the process of replacing an old clay sewer line with a brand new one, without digging it up. There are 2 types of trenchless technology and Evenflow Plumbing performs the method known as pipe bursting.
Pipe bursting is the process of replacing a sewer pipe in Hayward by digging only 2 small access holes to get to the sewer pipe, one at each end. Then a cable is run though the old pipe and connected to the new pipe. Then the new pipe is literally pulled right through the old one causing it to burst. The new pipe lasts about 50 years or longer in most environments according to Gary. "The new sewer pipes we install will last for decades under normal conditions. Since the new pipe is not made out of clay it can tolerate a lot more ground movement and it is resistant to tree root intrusion."
Evenflow Plumbing has developed a solid reputation over the last 20 years. They have many positive online reviews on trusted review sites like Yelp. "We currently have about 70 reviews on our Yelp profile in Oakland and we have about 50 combined reviews on our Yelp profiles in Hayward and Concord. We are happy our customers appreciate the services we offer," says Gary Dimodana.
To learn more about the plumbers at Evenflow Plumbing or sewer repair and replacement in Hayward please visit their website. To participate in the toy drive or to schedule an estimate for trenchless sewer replacement or sewer inspections please call (510) 782-3649. Evenflow Plumbing handles all types of plumbing services throughout the East Bay and there is never a travel charge for service. Call now to speak with an experienced plumber in Hayward.
Evenflow Plumbing
29318 Pacific St
Hayward, CA 94544
(510) 782-3649
evenflowplumbing.com