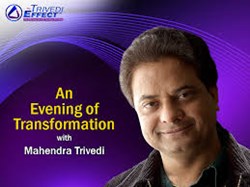 Evening of Transformation with Mahendra Trivedi
(PRWEB) February 11, 2014
Trivedi Global Inc. dba Trivedi Master Wellness™ is organizing a live broadcast 'An Evening of Transformation' on February 11, 2014 at 9PM ET. The highlights of this event are:

A thought provoking discourse from Mahendra Trivedi in which people will know about the beneficial impacts of The Trivedi Effect®.
An interactive session where people can ask questions from and share their thoughts with Mahendra Trivedi.
Remote Energy Transmission will be administered by Mahendra Trivedi, which people can receive in the comfort of their homes on the Internet or phone.
'An Evening of Transformation' is a live broadcast which is conducted on the second and fourth Tuesday of each month. It is designed especially for someone who wants to learn more about The Trivedi Effect® and/or experience the benefits of an Energy Transmission for the first time. During this broadcast, Mahendra Trivedi offers a discourse which provides profound insights on daily life and valuable perspectives on how to strengthen the connection to your Inner Guidance System with The Trivedi Effect® and optimize your true potential.
After his discourse, Mr. Trivedi administers an Energy Transmission for all the participants present remotely around the world. They may, at the end of the call, ask questions and share their experiences or discuss any life problem for guidance from Mr. Trivedi. The energy is transmitted at one time to many people with diverse backgrounds and conditions. It is so powerful that many individuals report amazing results after just one Energy Transmission.
Mahendra Trivedi, who is known as the Master of Transformation possesses a unique and natural ability of Energy Transmission. He carries out the transmission of Universal Energy to living beings and non-living objects through the power of his thoughts. The wonderful impact of these Energy Transmissions is known as The Trivedi Effect®.
More than 200,000 of people world-wide have experienced The Trivedi Effect® from Mahendra Trivedi and many of them have reported transformational benefits in all areas of their lives, including physical, mental, emotional, sexual, spiritual, and financial wellness and a vast improvement in relationships.
Mahendra Trivedi has undertaken more than 4000 experiments on The Trivedi Effect® in order to authenticate it and eradicate the possibilities of the placebo effect. The impact of this phenomenon has been measured, validated and documented in major research institutes throughout the world resulting in several publications in leading international peer-reviewed scientific journals. All these experiments confirmed the transformational power of The Trivedi Effect® through consistent and repeatable results.
In order to provide the transformational benefits of The Trivedi Effect® to the maximum number of people from all around the world, Mahendra Trivedi organizes various Trivedi Master Wellness™ Programs. 'An Evening of Transformation' is a great starting point if you wish to go down the road of transformation and optimize your potential. It will also help you identify which Trivedi Master Wellness™ program/ best fits your requirements and long-term goals.
To know more about 'An Evening of Transformation' and to register yourself for this webcast visit http://www.trivedimasterwellness.com/services/an-evening-of-transformation/.
About Trivedi Master Wellness™: Mahendra Trivedi has the unique ability to create The Trivedi Effect® and has the scientific evidence to prove it. This phenomenon of Energy Transmission has been tested in over 4,000 experiments conducted using stringent methodologies and the most advanced technologies available on this planet. Many results have been published in leading international, peer-reviewed, scientific journals. Each experiment shows significant transformation with consistent results. The resulting changes show that this energy has the remarkable ability to improve the functionality and potential of an individual. Trivedi Master Wellness™ established in 2011 is intended to provide the benefits of The Trivedi Effect® to optimize human potential throughout the world.
Websites: http://www.trivedimasterwellness.com/, http://www.trivedieffect.com/, http://trivediproducts.com/.
Call us on: +1-877-493-4092
For inquiries please mail us at: cs(at)trivedieffect(dot)com