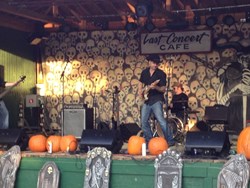 Houston, TX (PRWEB) November 20, 2013
The Last Concert Café will host four concerts in the next several weeks, featuring The Motet, Bananaphone, Deadeye, and Earphunk.
The Motet will kick things off at 9 p.m. Saturday, Nov. 23. Tickets are $16 in advance and $20 at the door. The Denver-based band is a world-class ensemble that whips audiences into a whirlwind using sheer impromptu force. The rhythms are spontaneous and textured, and the beats are hard-driving. The band uses this energy to create a rapport with the audience rarely seen in today's manufactured rock. The Motet consecrates the ground on which dance music meets free-form improvisation.
Bananaphone is up next at 9 p.m. on Friday, Nov. 29. Tickets for this show are $12 each and only available at the door.
At 9 p.m. the next day, Saturday, Nov. 30, Deadeye takes the stage. Tickets are $10 each and again only sold at the door. Hailing from Austin, Texas, the band has more than 120 Grateful Dead songs in their repertoire, putting their own take on each one. They play long, high-energy, soulful shows to carry the torch for one of the greatest American bands of all time.
Finally, Earphunk will play their widely-known Daft Phunk set at 9 p.m. Friday, Dec. 6. Presale tickets are available online at http://havinaballproductions.us6.list-manage2.com/track/click?u=8db38de33875be4014e4e9ed2&id=51e63929ae&e=683ec74964. The show was a blast the last time the band performed in Houston, and the set list is comprised of "phunkified" Daft Punk songs. It is not something to be missed for fans of Daft Punk, Earphunk, or jam bands alike.
The Last Concert Café features event catering, a happy hour, live music and entertainment, private parties, and Tex-Mex cuisine with healthy and vegetarian options. For more information, please visit their website at http://lastconcert.com.
About the Company:
Whether wanting to enjoy great food or live music and entertainment, the Last Concert Cafe is the place to be. The Last Concert Cafe is one of Houston's oldest (and definitely friendliest) live entertainment venues. Located in the historic warehouse district of downtown Houston, they have been serving up great music and delicious Tex-Mex since 1949.