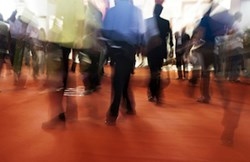 We are seeing an increasing focus among marketers, executives, and event professionals to tie events back to an increase in revenue.
San Francisco, CA (PRWEB) January 16, 2014
Enterprise event management technology provider, Certain, Inc., today announces its predictions for the top trends to watch in 2014. The trends center on the integration of event and marketing technologies to improve attendee engagement and business results.
"We are seeing an increasing focus among marketers, executives, and event professionals to tie events back to an increase in revenue. This requires events to be tightly integrated with other marketing channels in order to design exceptional experiences for attendees and to improve sales and marketing follow up," remarks Betsy Zikakis, VP of Marketing for Certain.
Certain's predictions stem from this underlying focus and include the following:
1. Events will become further incorporated into the revenue cycle.
In 2014, organizations will focus intently on integrating events with the full range of marketing programs. By taking steps to tie information gathered from other channels to make events more powerful, organizations will provide attendees the personalize information and contact connections they need, and use information gathered through the event to better understand customers and prospects and to optimize follow-up.
2. Marketing Automation will be increasingly integrated with Event Management.
This year, event organizers will focus on tying event management technologies to marketing automation systems. With this process marketers will see synergies develop that will improve the value of each event and the overall success of marketing efforts due to a more effective approach to understanding attendees, designing events to meet their needs, and driving the lead follow-up process.
Additionally, the ability to effectively measure the impact of the event on sales and revenue will be made possible to the same degree as other marketing channels creating a more accurate view of the event's ROI.
3. Event organizers will focus on personalizing event experiences as a way to increase engagement, promoters, value and ROI.
In 2014, organizations will turn to events to get closer to increasingly empowered customers. They will no longer assume that all of their buyers are in the same stage of the buying cycle with a one-size-fits-all approach to their events. Instead, organizations will meet each individual attendee at their exact point in the process delivering the proper information and connections to effectively accelerate the buying process.
The roles of the event professional and marketer will be focused on designing unique experiences for each attendee type. Attendees will be able to personalize the event to best meet their goals.
The result of this modern event approach will be a clear ability to meet attendees where they are in their buying journey and guide them to the relevant information and connections they seek to move themselves along their chosen path.
4. Managers will demand a single platform, rather than disparate systems, to drive events.
This year we will see event professionals and marketers embrace event management technology as part of a holistic, integrated technology solution. Event management technology will bring together all of the tools for planning, management, engagement, and understanding.
5. Mobile access will be a key vehicle for engagement and will be integrated into all event experiences for both attendees and organizers.
In 2014, mobile access will move from optional to expected for all events. From the time a participant enters the "consciousness" of the event, organizers will be engaging attendees, building individual profiles, and delivering relevant content and connections through the entire event lifecycle across all types of devices.
The preferred devices for engagement during an event will be mobile tablets and phones. Event organizers will need to determine the exact behaviors they want to support and drive through these devices to deliver the optimal experience and capture valuable attendee insights.
To read more about these predictions, visit the Certain event management blog.
About Certain: Powering Connections, Accelerating Business
Certain delivers the leading enterprise event management platform to personalize event experiences and provide meaningful connections that accelerate business. Certain integrates with enterprise systems like marketing automation and CRM, and the Certain Event Success Hub™ includes industry partners that extend our event management capabilities. The Certain platform enables attendee management, a mobile app that simplifies and speeds-up event check-in and management, event branding, social and mobile participation, and 1-to-1 meetings that engage audiences and maximize event value for all participants. Headquartered in San Francisco, with offices in North America, Europe and the Pacific Rim, Certain is a strategic event partner to over 600 enterprise and event management companies. For more information, please visit http://www.certain.com.