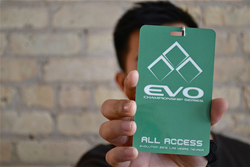 "Our products are not just made in the USA, they're made down the street from our main office."
Chicago, IL (PRWEB) November 25, 2014
Bag Tags Inc., a local company for 15 years, recently launched a sister company, Event Passes. The new company will focus strictly on creating high quality and custom laminates for events.
Bag Tags Inc. was created 15 years by Thomas Doyle. Doyle's family was involved in competitive swimming, and he recognized a need for the swimmers to have a fun way to track progress and set goals. Their first product was the USA Swimming Time Standard cards, which quickly caught on and expanded rapidly.
Soon after the launch of Bag Tags, Inc., the company started receiving orders to create event credentials. Eventually, these event credentials became a majority of their business. Creative Director Sarah Kern estimated that nearly 75 percent of their business from Bag Tags Inc. was for events and the need to promote them better became obvious.
"We saw that the bulk of our clients were in events, so we thought it was best to cater our brand strictly to events," Kern said. "Instead of an unclear business name like Bag Tags, we wanted it make it obvious to clients what we do off the bat."
With Event Passes, the goal was to keep everything simple. From the website to the ordering process, the customer's experience should be easy and enjoyable.
"Keeping it simple is a huge part of our company mantra," Operations Manager Tom Doyle Jr. said. "Our focus is clear and simple: you can get quality event passes with us, no if ands or buts."
Both Bag Tags Inc. and Event Passes strive to create high-quality products for the best prices and with the best customer service available. With the production plant in Evanston, they not only have ultimate quality control, but they can offer products that are made locally.
"Our products are not just made in the USA, they're made down the street from our main office," Doyle Jr. said. "It greatly improves turn-around time. In fact, if customers need it, we can turn an order around in 24 hours."
About Bag Tags Inc.
Bag Tags, Inc. has been in business for more than 16 years. It is a family owned and managed company, and a direct manufacturer of custom bag tags, identification tags and event credentials. What started in the garage as a family business in 1998 has now grown into one of the premier event credential and custom luggage tag providers in the United States. For more information, visit http://www.bagtagsinc.com.
About Event Passes
Event Passes specializes in providing proper passes and badges for all types of events. With over 10 years of experience, Event Passes are proficient in creating top-of-the-line, custom passes designed to meet the needs of every client. The team at Event Passes will work to ensure your event has the perfect pass to not only look good, but keep your event secure. Learn more at http://www.eventpasses.com.