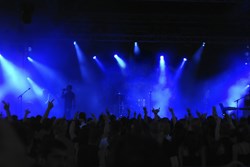 Campbell, CA (PRWEB) January 31, 2014
Get the best seats in the house for Imagine Dragons' 2014 Tour, "Into the Night," from Top Notch Seats, a San Francisco-based ticket broker that has provided quality seating for concerts, sports and theater since 1993.
Now is the time to get Imagine Dragons tickets from Top Notch Seats. The in-demand concert could sell out fast for the Las Vegas-based group whose recent official debut album, "Night Visions," hit No. 2 on the Billboard album chart.
Imagine Dragons is the signature name of an edgy alternative band always striving to break new ground. In fact, the four-man band, fronted by Dan Reynolds, was voted by Billboard Magazine as the 2013 breakthrough band of the year. Their rock-edged single, "Radioactive," was also named rock hit of the year by Rolling Stone Magazine.
The enigmatic band was started in 2008 by Reynolds and drummer Andrew Tolman when they were both students at Brigham Young University. They quickly gained popularity, first with the local college crowd, then nationally. Their first two extended play recordings, "Imagine Dragons" and "Hell and Silence," garnered a lot of attention for the fledgling group. Critics may have been somewhat perplexed by the group's style, but they recognized the greatness. Finally, in 2011, the band released one more extended play record called "It's Time." These recordings gave the band the sales backing that would garner them a record deal.
The North American leg of the group's tour will kick off on Feb. 8 in Boise, Idaho and crisscross the country all through the month. The fast-paced Imagine Dragons concert tour will see performances in Seattle, Washington, Phoenix, Arizona, San Jose, California, spots in Texas, Virginia and Tennessee along with a quick jump up to Vancouver, BC in Canada in just February alone. There are a few remaining dates in March before the Imagine Dragons concert tour comes to an end. The San Francisco Bay Area concert date is Feb. 13 at the SAF Center in San Jose.
With such a short period of time for the tour, the dates are likely to fill up fast and Imagine Dragons tickets could be hard to come by soon. Top Notch Seats can get fans tickets to even sold-out shows.
To get tickets, visit Top Notch Seats at http://www.topnotchseats.com or call 800-578-9919 or 408-371-2225 for local customers. Tickets can also be purchased in person at Top Notch Seats' office at 1875 Winchester Blvd. in Campbell, just south of Hamilton Avenue. Their office hours are 9 a.m. to 5:30 p.m. Monday through Friday and 10 a.m. to 2 p.m. Saturdays.
About the company:
Top Notch Seats specializes in event tickets, concert tickets, theater tickets and sports tickets in the San Francisco Bay Area. While other ticketing agencies are sold out, Top Notch Seats has the tickets fans crave. They also have Mountain Winery events tickets. As a Better Business Bureau accredited business, customers can rest assured that Top Notch Seats will provide valid tickets every time. Don't risk overpaying for fraudulent tickets from an unauthorized reseller. Top Notch Seats only sells completely authentic tickets.