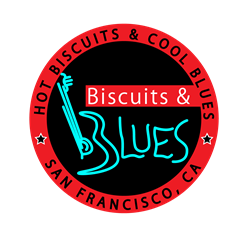 Preserving the blues since 1995!
San Francisco, CA (PRWEB) August 01, 2014
San Francisco's premier blues club, Biscuits and Blues specializes in live music performances paired with savory Southern cuisine in one of the city's most special and intimate of settings. Once again, they are delivering a fantastic lineup for the month of August.
The Biscuits and Blues stage has become a haven for the most renowned blues artists worldwide to share their rhythm and soul in a close setting with the audience. Delivering an impeccable dinner and show on a nightly basis, there is no debate to why they have been dubbed 2014's "The Bay Area's #1 Blues Club."
The following list is a compilation of Biscuits and Blues' upcoming headlining shows during the month of August. Their world-class music lineup show times, prices and dates can be viewed in its entirety at http://www.biscuitsandblues.com/lineup.
Saturday, Aug. 2, the Frank Bey & Anthony Paule Band take over the B&B bandstand with soulful vocals and compelling guitar. Bey's voice is one of the small wonders of modern soul-blues. He's found his dream band in seven Bay Area musicians led by tasteful, intelligent guitarist and producer Anthony Paule.
Tony MacAlpine is bringing his phenomenal guitar fret work and hard-edged blues music to the Bay Area on Friday, Aug. 8. Tony MacAlpine continues to prove that he truly is one of rock's most amazing and versatile musicians. He incorporates classical, jazz and fusion influences into the hard rock/metal genre on both guitar and keyboards.
Saturday, Aug. 9, the queen of fiery vocals, Karen Lovely, joins the club for two stellar shows. Known for her passionate, driven performances and always backed by stellar musicians, this powerhouse vocalist delivers a blistering mix of contemporary and old school blues.
Tuesday, Aug. 12, 19, and 26, Biscuits and Blues is proud to present the weekly installment of the Bay City Blues. This event is a celebration of blues in all its forms and an adventure into the depth of a national genre. Hosted by the nationally-recognized Chris Cain and his all-star cast of musicians, every week they invite a new special guest to accompany them onstage and present new, upcoming and seasoned talent from the blues world.
The spirit of Stevie Ray Vaughan will fill the room of B&B with a special tribute show from Alan Iglesias & Crossfire on Thursday, Aug. 14 and Friday, Aug. 15. The band captures the essence of the late guitarist's sound and recreates it with an authenticity and sense of respect second to none. This is the real deal.
Wayne Baker Brooks, the talented newcomer to the blues world, will share his talents on Saturday, Aug. 16. Combining outstanding song craft, passionate vocals and a liquid-fire guitar style, this gifted artist manages to honor his rich blues heritage while effortlessly expanding the boundaries of the genre.
Friday, Aug. 22, San Diego's own Bill Magee will rip and roar with his guitar for two fantastic shows. Guests will be moving and grooving to every one of his beats. Bill Magee connects with his audience as his music flows like magic.
Lavay Smith & Her Red Hot Skillet Lickers return for their ravishing monthly jazz installment on Saturday, Aug. 23. The San Francisco-based band is a notable exception to the retro-swing norm. The saucy vocalist and her eight-piece crew actually know the difference between jump music and bland R&B in corny suits.
Friday, Aug. 29, Franco Paletta & the Stingers will tear the house down with their Portland-style Blues. As good as his harp playing is, Paletta's strong vocals are what thrill the listeners. He has a unique vocal style that lets listeners know that they are listening to a true bluesman.
Saturday, Aug. 30, the fantastically-soulful lyrical stylings of Earl Thomas will fill the club of Biscuits and Blues. Thomas' passion and raw talent emanate from the stage, which lights up with energy and charisma each time he performs. The Earl Thomas shows sell out quickly! Reservations are highly recommended.
Tickets and reservations for an intimate dinner and show can be made by calling the Box Office at (415) 292-2583 or visiting http://www.biscuitsandblues.com/tickets.
About the company:
Biscuits and Blues is a full restaurant, bar, and nightclub, and one of the reasons why San Francisco is on the map for music lovers. Located at 401 Mason St. at Geary, they have been voted America's #1 Blues nightclub by the Blues Foundation and the Bay Area Blues Society. It is San Francisco's home to great live music in an intimate setting, where everyone gets a front row seat. Biscuits and Blues features savory award-winning Southern-style cuisine, California wines, micro-brews and specialty cocktails – all at reasonable prices that please tourists and loyal Bay Area clientele. Biscuits and Blues is also an event venue for parties. They can host everything from office parties to family reunions.
To plan a fantastic night full of stellar blues music, delicious southern cuisine and fine California wine, please visit the Biscuits and Blues website.