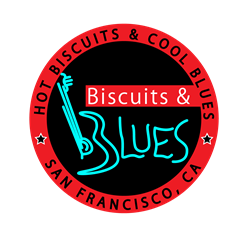 Preserving the Blues since 1995!
San Francisco, CA (PRWEB) July 01, 2014
San Francisco's premier event venue is once again featuring live music performances in one of the city's most special and intimate of settings. Biscuits & Blues has recently announced their July line-up, featuring a variety of shows and performances by talented artists.
The Biscuits & Blues stage has become a haven for the most renowned blues artists worldwide to share their rhythm and soul in a close setting with the audience. With delicious southern-style food, hand-crafted signature cocktails and a sultry slew of authentic blues artists, Biscuits & Blues remains proud to be deemed "The Best Blues Club in the Bay Area."
The following list of world class artists is only but a snippet of what's to come. All interested parties are encouraged to visit http://www.biscuitsandBlues.com/lineup to view the July calendar of shows in its entirety.
To celebrate the Fourth of July, Junior Watson will be performing an electrifying "Red, White, and Blues" concert. Watson is a fan-favorite for his eclectic, original take on the electric blues, with extra reverb. Audiences never know what Watson will do; he has described himself as a wild artist, "like a train off the tracks." His diverse influences coupled with his creative, individualistic style makes for one of the most fun blues shows around.
Sunday, July 6, Kara Grainger's classic songwriting skills, smooth sultry vocals, and ability to whip up a storm with a fiery slide guitar take the over the Biscuits & Blues bandstand. She exhibits an effortlessly seductive and modern take on blues and soul music and puts an irresistibly funky stamp on 12-bar standards.
Thursday, July 10 and Friday, July 11, the unique style and amazing vocal talent of Grady Champion will leave the audience stunned. Champion is an electrifying blues singer and harmonica virtuoso. He has been compared to Sonny Boy Williamson, Howlin' Wolf, Lionel Ritchie and Smokey Robinson.
Saturday, July 12, the Sons of Champlin will rip and roar for two fantastic shows, led by Bill Champlin, former member of the iconic American band "Chicago." The Sons are a seven-piece band that seems to connect with its audience on so many levels, lyrically and musically. It's fun to go and either listen, dance or just connect with friends.
Wednesday, July 16, Candye Kane has that big, brassy voice that has the authority and sass that fans look for in a female vocalist. Bawdy, unabashed and gloriously omnisexual, the plus-sized singer belts out the blues like nobody's business. She is one of the most powerful and entertaining female blues singers of her generation.
Andy T & Nick Nixon Band celebrate the release of their new CD "Living It Up" on Friday, July 18. This well-rounded duo features some crisp, economical fretwork from Andy T and some of the finest powerhouse vocals from Nixon, who leaves nothing on the table.
Saturday, July 19, Rick Estrin & the Nightcats celebrate their new live album release "You Asked For It Live" by playing the entire CD live and on stage. These are serious musicians out to have a hotter than hot good time. It's tough to stay in your seat when Estrin and his musical cohorts get cooking.
Thursday, July 24 and Friday, July 25, the Homemade Jamz Blues Band will bring their unique instrumentation and superb blues talents to the stage at Biscuits & Blues. This trio exudes nothing but confidence and attitude as they sing of betrayal, love, hard times and other bad things gone down as if they've lived a life rich in strife.
Saturday, July 26, the fantastically soulful Earl Thomas & the Blues Ambassadors will tear up the stage of Biscuits & Blues. Thomas' passion and raw talent emanate from the stage, which lights up with energy and charisma each time he performs. The Earl Thomas shows sell out quickly! Reservations are highly recommended.
Memphis Gold brings true Tennessee blues talent to the heart of the Bay Area on Sunday, July 27. Memphis Gold is appreciative of his roots, yet too young to be completely anchored in the past. His original music moves forward with funky rhythms, odd chord changes and structures and his own idiosyncratic view of life.
Reservations and ticket purchases can be made by calling the Box Office at (415) 292-2583 or visiting http://www.biscuitsandblues.com/tickets.
About the company:
Biscuits and Blues is a full restaurant, bar and nightclub and one of the reasons why San Francisco is on the map for music lovers. Located at 401 Mason St. at Geary, they have been voted America's No. 1 Blues nightclub by the Blues Foundation and the Bay Area Blues Society. It is San Francisco's home to great live music in an intimate setting, where everyone gets a front row seat. Biscuits and Blues features savory award-winning Southern-style cuisine, California wines, micro-brews and specialty cocktails – all at reasonable prices that please tourists and loyal Bay Area clientele. Biscuits and Blues is also an event venue for parties. They can host everything from office parties to family reunions. For more information and current lineup, please visit their website.