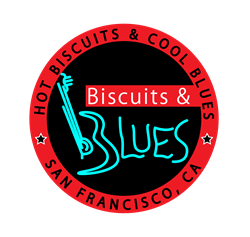 Preserving the Blues Since 1995!
San Francisco, CA (PRWEB) September 01, 2014
September is shaping up to be a busy month for Biscuits and Blues, San Francisco's premier blues club. Biscuits and Blues recently announced its lineup for the month of September. The blues club specializes in live music performances paired with savory southern cuisine in one of the city's most special and intimate of settings.
The following list is a refined compilation of Biscuits and Blues' nationally acclaimed artists from the blues world. Their world-class music lineup, show times, prices and dates can be viewed in its entirety at http://biscuitsandblues.com/lineup
Shawn Holt & the Teardrops will leave it all on the stage with three back-to-back shows on Sept. 3, 4 and 5. Shawn Holt is the son of the late legendary blues master, Magic Slim. Shawn Holt & the Teardrops were the recipients of this year's 2014 BMA award for "Best New Artist Debut." The high energy, hard-driving sound of the Teardrops is still alive and well with Holt!
On Saturday, Sept. 6, the Kirby Sewell Band play two amped up, invigorating, thought-provoking sets. The Kirby Sewell Band is a high energy, soul-slinging R&B band, with a modern twist. Known for their passionate live performances of what they call alternative blues, the monster five-piece posse is a force to be reckoned with.
2012 California Blues Hall of Fame inductees the Delta Wires return to the Bay Area on Friday, Sept. 12. The Delta Wires are a big, powerful harmonica and horns blues band from the Oakland/San Francisco Bay Area.
Rick Estrin & the Nightcats will bring an electrifying show to keep the spirit of the blues alive on Saturday, Sept. 13. Rick Estrin, 2013 Blues Music Award recipient for Best Harmonicist, is a soulful lead vocalist and a brilliant songwriter. His band is comprised of four world-class musicians, who together, form one of the tightest and most original bands in any genre.
Drew Zingg steps into the limelight to share his guitar talents on Wednesday, Sept. 17. A household name in the industry, professional players across genres give Zingg the highest respect for his abilities, but his profile is also on the upswing among guitar devotees in general.
Paula Harris's powerhouse vocals will fill the intimate space of B&B on Friday, Sept. 19. "If Etta James fronted the Tower of Power — and they were a blues band— THAT is what Paula Harris sounds like!" She delivers a mix of impudent, humorous and naughty lyrical content in a fusion of blues, funk and jazz.
The Kinsey Report delivers soulful vocals and impassioned guitar playing during two fantastic shows on Wednesday, Sept. 24. The Kinseys create a signature sound that mixes the traditional with the contemporary. The Kinsey Report is back in the groove!
On Friday, Sept. 26, Shane Dwight will rip and roar on stage with his own personalized Americana style of music. With tough, lean guitar work and commanding vocals, he is a tour de force. Shane is a killer songwriter, singer, guitarist and performer.
Eden Brent brings her commanding vocals and piano mastery to the forefront of the blues for two stellar shows on Saturday, Sept. 27. Brent's piano playing and singing style ranges from a melancholic whisper to a full-blown juke joint holler. She's simultaneously confident and confiding, ably blending an earthy meld of jazz, blues, soul and pop as she huskily invites listeners into her lazy, lush world.
On Tuesday, Sept. 30, the poster child of the blues, Popa Chubby, brings his tempestuous, soulful style to the stage. Summed up as "the Stooges meets Buddy Guy, Motörhead meets Muddy Waters, and Jimi Hendrix meets Robert Johnson," Popa Chubby is an endearing character who is one of the genre's most popular figures.
Tickets and reservations for an intimate dinner and show can be made by calling the Box Office at (415) 292-2583 or visiting http://www.biscuitsandblues.com/tickets
About the company:
Biscuits and Blues is a full restaurant, bar, and nightclub, and one of the reasons why San Francisco is on the map for music lovers. Located at 401 Mason St. at Geary, they have been voted America's #1 Blues nightclub by the Blues Foundation and the Bay Area Blues Society. It is San Francisco's home to great live music in an intimate setting, where everyone gets a front row seat. Biscuits and Blues features savory award-winning Southern-style cuisine, California wines, micro-brews and specialty cocktails – all at reasonable prices that please tourists and loyal Bay Area clientele. Biscuits and Blues is also an event venue for parties. They can host everything from office parties to family reunions.
To plan a fantastic night full of stellar blues music, delicious southern cuisine and fine California wine, please visit the Biscuits and Blues website: http://www.biscuitsandblues.com