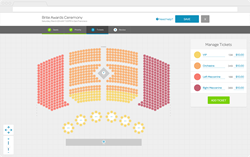 "The industry is hungry for an alternative, and today's launch is our first step in eliminating the pain of outdated and expensive reserved seating tools and replacing them with simple, yet robust technology." Kevin Hartz, Founder and CEO, Eventbrite
San Francisco, CA (PRWEB) March 05, 2014
Eventbrite, the leading independent ticketing platform, today launched a self-service reserved seating solution, allowing event organizers of all sizes around the world to automatically prioritize and assign seats to attendees. The new functionality is now available to all organizers on Eventbrite.com at no additional cost, and will be available on localized sites throughout the world later this month.
This new solution will offer more sophisticated technology for Eventbrite's millions of global customers. It will also open the company up to more types of events and venues in the future, including comedy shows, theaters, galas, performing arts, spectator sports and community centers. This added functionality offers the simplest and fastest purchase process for reserved seating events, with only two clicks required on web or mobile to complete purchase.
"At Eventbrite, we are focused on democratizing the massive ticketing industry, and addressing the biggest problems organizers and attendees face: lack of innovation, customer support, and high ticketing fees," said Eventbrite CEO and Founder, Kevin Hartz. "Reserved seating technology has been broken for years, and it shows in the experience organizers and attendees face today. The industry is hungry for an alternative, and today's launch is our first step in eliminating the pain of outdated and expensive reserved seating tools and replacing them with simple, yet robust technology."
At the core of Eventbrite's reserved seating solution is Eventbrite's Seat Designer, a new, intuitive interface that provides organizers easy-to-use seat planning, streamlined event flow, seamless inventory management, and a premium experience for attendees from point of purchase through the event experience itself.
Seat Designer offers the ability to:

Easily create a realistic seat map in minutes using drag and drop technology to place tables, seats, stages, bars, food stations, restrooms, exits, dance floors, and more
Designate a focal point to automatically determine and fill the best seats first with 'best available' seating priority for each ticket type or section
Modify entire seat sections with curve and skew functionality, providing maximum flexibility for any event space
Save and share seat maps with other organizers, and gain access to existing crowd-sourced seat maps to save time and get inspiration
Set optimal pricing for each seat in the house to capture the greatest value of an event
Drive advance ticket sales by inspiring attendees to buy tickets early to get the best seats
Visualize ticket inventory with an intuitive, color-coded seat map
Integrate with other Eventbrite tools to set up discount and VIP access codes, pull reports at any time, access complete sales data, and much more
"We challenged ourselves to throw out all assumptions and rethink how reserved seats are sold and bought. The result progresses Eventbrite's mission to transform arcane and inaccessible tools into solutions that are intuitive and globally available to all event organizers and attendees," said Sean Porter, Senior Director of Product, Platform.
"Planning a Marine Corps Ball for over a thousand attendees can be quite a challenge. Gone are my days of selling tickets with an excel document, and spending hours reorganizing the seating chart every time a change is needed," said Eriberto Franqui, Eventbrite reserved seating beta client and Family Readiness Officer of Marine Airgroup 49. "Eventbrite's new reserved seating solution is so intuitive and has saved me hours of work. From printing tickets to electronic check-ins, from floor layouts to multiple ticket pricing, from reserving seats to transferring seating options; Eventbrite has solved it all."
This announcement crowns a year of rapid growth for Eventbrite. In 2013 alone, Eventbrite processed nearly 60 million tickets in 187 countries, totaling more than $1 billion in gross ticket sales.
All of Eventbrite's services and customer support remains completely free for free events. Event organizers only pay when they make a sale. Specifically, organizers are charged 2.5 percent plus $0.99 for every ticket they sell (not including 3 percent credit card processing charge), which the organizer can choose to absorb in the ticket price, or pass along to the customer. Eventbrite has no hidden or monthly fees, nor requires contracts. This new reserved seating solution is part of the core platform offering and doesn't cost additional money.
For more information about Eventbrite and reserved seating, visit http://www.eventbrite.com/reservedseating.
About Eventbrite:
Eventbrite enables people all over the world to plan, promote, and sell out any event, and has sold over 165 million tickets and registrations worldwide, totaling more than $2 billion in gross ticket sales. The online event registration service makes it easy for everyone to discover events, and to share the events they are attending with the people they know. In this way, Eventbrite brings communities together by encouraging people to connect through live experiences. Eventbrite's investors include Tiger Global, Sequoia Capital, T. Rowe Price, DAG Ventures, and Tenaya Capital. Learn more at http://www.eventbrite.com.